| | | |
| --- | --- | --- |
| | | |
| | J u n e 2 0 1 3 — Volume 21, Issue 6 | |
| | The GENI-us Letter | |
Southeast Asia And West Africa Pushing Towards Regional Grid Interconnection
Dear GENI Friend,


Cooperation within a country can be difficult.† Cooperation between many nations demands even greater levels of coordination and trust.† Today we see multi-national energy planning among regional groups — because there are mutual benefits that come from linking electrical networks across borders!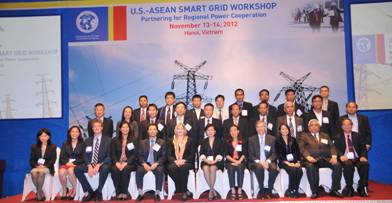 The 10 nation ASEAN (Association of Southeast Asian Nations) Network began meeting years ago to explore the concept of the ASEAN Regional Electric Grid.† These Energy Ministers now have a Vision 2020 thatís similar to the "Connect the Americas 2022" plan we featured four months ago.
ASEAN Vision 2020 states that 'the regional power grid interconnection would be the main driver for green energy and reduced damages to the environment.'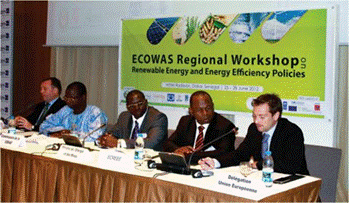 The ECOWAS (Economic Cooperation of West African States) community has been meeting with these goals.† Called the West African Power Pool, the 15 member states are now modeling the benefits of a regional power grid with 'a high share of renewable energy development to help end poverty in a sustainable fashion.'
These are two outstanding examples of the GENI initiative becoming real in politically diverse regions.† The benefits of economic cooperation are stronger than parochial borders.† This is good news that you donít see making headlines.† Please share it, "like" it, and push for similar energy cooperation in your region.† With electric power grids, the more we cooperate, the better for everyone.
In partnership for the planet,
President
p.s. We encourage you to understand and consider investing in climate solutions. †We are co-founders of the MSCI Global Climate Index (now up 53% since inception in 2005). †We offer a Compendium of Green Investment Advisories
P.P.S. Review each of our projects, and Register your interest and ideas:
We invite your support of our work. It's easy with our secure Support page.
---

Email this page to a friend
Updated: 2013/01/07
If you speak another language fluently and you liked this page, make a contribution by translating it! For additional translations check out FreeTranslation.com (Voor vertaling van Engels tot Nederlands) (For oversettelse fra Engelsk til Norsk)
(Для дополнительных переводов проверяют FreeTranslation.com )