| | | |
| --- | --- | --- |
| | | |
| | J u l y 2 0 1 4 — Volume 22, Issue 7 | |
| | The GENI-us Letter | |
12x More Solar -And- US$550 Billion Annual Investment In Renewables Needed To Avoid 'Climate Catastrophe'
Dear GENI Friend,


The good news: wind and solar have become the fastest growth sector for new power generation.  From the map below, you can see strong trends in North America, Europe, China, Australia and New Zealand.  The global recession did impede the upward trend in the past 2 years, but renewable growth is now an unstoppable force.
Getting ahead of climate change is a bigger challenge.  The International Renewable Energy Agency (IRENA) says that the world needs to invest half a trillion dollars every year in renewables to just avoid catastrophic climate change consequences.  This means US$7-8 trillion invested by 2030 in new renewable energy sources.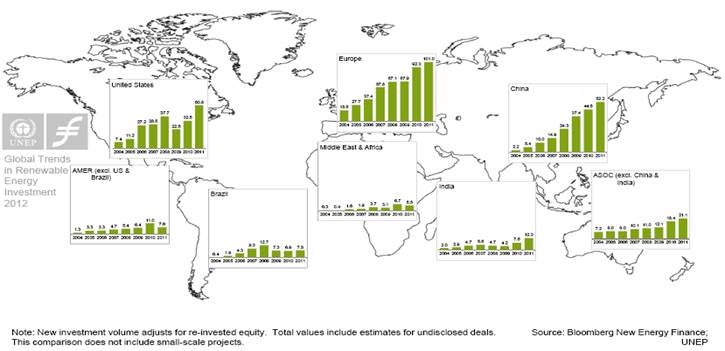 IRENA has launched "REmap 2030" to gives nations and utilities a roadmap for this scale-up.  They project 12x more solar, 15x more wind and 9x more geothermal.  They anticipate that an additional 900,000 new clean energy jobs will be created.  This is the necessary investment required to keep CO2 at 450ppm in 2050.
We are thrilled that IRENA, this new United Nations agency, has expanded to reach 2/3rds of all countries and is now leading the global transition to clean energy.  GENI has made our contribution to them – providing 100% Renewable Energy Roadmaps for individual nations plus solar, wind and geothermal resource maps for many nations.  If you are investing for the future of our planet, this sector deserves your consideration.
In Partnership for the Planet,
p.s. Click here to help Sponsor our bright international students in "Building Resilient Cities."
P.P.S. Review each of our projects, and Register your interest and ideas:
We invite your support of our work. It's easy with our secure Support page.
---

Email this page to a friend
Updated: 2014/03/22
If you speak another language fluently and you liked this page, make a contribution by translating it! For additional translations check out FreeTranslation.com (Voor vertaling van Engels tot Nederlands) (For oversettelse fra Engelsk til Norsk)
(Для дополнительных переводов проверяют FreeTranslation.com )