| | | |
| --- | --- | --- |
| | | |
| | N o v e m b e r 2 0 1 4 — Volume 22, Issue 11 | |
| | The GENI-us Letter | |
GENI-us Letter 2014-11
100% Renewable Cities — Taking a Stand
Dear GENI Friend,


More people today live in urban areas and cities than in rural communities.  70% of the world's CO2 emissions are produced by our cities.  We use fossil fuels to electrify, heat our buildings and power our vehicles.  So cities have a major role to play in providing solutions. 
As you know, GENI works to link renewable energy resources between nations around the world.  We also know that every city has a critical role to play.  We all need to "think global and act local" to solve this issue.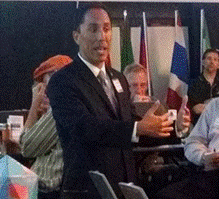 This year we have been partnering with the San Diego Renewable Energy Society to drive this work in our own city.  We invite you do the same!
San Diego has recently drafted a Climate Action Plan that sets several goals.  Todd Gloria, the San Diego City Council's President, has pledged that San Diego will be 100% renewable by 2035.  That's a big goal and a heavy lift from our current status.
During the presentation, we learned 4 ways that cities have achieved 100% renewable status, and that the US EPA has a Top 30 list of City Governments who are already doing this — so any city can learn from these early adapters.    www.epa.gov/greenpower/toplists/top30localgov.htm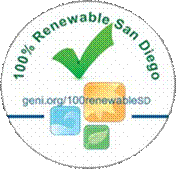 San Diego's Climate Action Plan is not perfect — and it is a good place to start for your city.  The 5 Core Strategies include: water/energy efficiency in buildings, clean electricity, better transit options, zero waste, and climate resiliency.  These are excellent ideas for your city, and we ask that you engage your Mayor and Council.
We created a new website to assist you in the question "What can I do?": 
Please sign the 100% Renewable Pledge.  You can use these tips to improve your "green ranking" at home and at your business.  Every City needs a Climate Action Plan. You can encourage your leaders to take the challenge.  We invite you and your organization to take a leadership position and Become a Sponsor. It's a way we can "act local and be global" together.
In Partnership for the Planet,
P.S. We invite you to make a monthly pledge to help drive the GENI Initiative faster in 2015.  Your support makes this work possible:  www.geni.org/globalenergy/donors/enroll/pledge.shtml
P.P.S. Review each of our projects, and Register your interest and ideas:
We invite your support of our work. It's easy with our secure Support page.
---

Email this page to a friend
Updated: 2014/03/22
If you speak another language fluently and you liked this page, make a contribution by translating it! For additional translations check out FreeTranslation.com (Voor vertaling van Engels tot Nederlands) (For oversettelse fra Engelsk til Norsk)
(Для дополнительных переводов проверяют FreeTranslation.com )