M a r c h 2 0 1 5 — Volume 23, Issue 03

GENI-us Letter 2015-03



World Bank: The Renewable Electricity Grid
Dear GENI Friend,


"Renewables are no longer a marginal business. We are talking about levels of energy that can bring light to thousands of households, grow businesses, meet the needs of cities, and drive entire economies." Anita Marangoly George, Sr. Dir., Energy & Extractives Global Practice, World Bank Group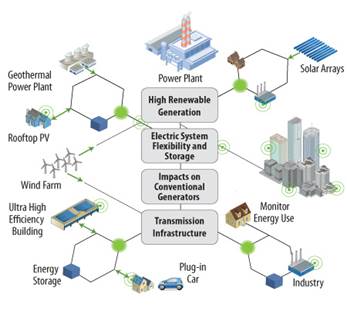 The new World Bank report is clear. Utility scale solar and wind energy is now cost competitive in some nations – and this power can be integrated into their grids without compromising reliability or affordability.
The old utility model of large power plants (coal, nuclear and hydro) linked by high-voltage transmission to cities and industry has changed. Today we have multiple new generation options (solar, wind and geothermal) that can feed into this transmission grid.  New "smart systems" enable energy storage, rooftop solar, electric vehicles which bring power generation closer to the customer.
(Graphic: NREL Electric Sector Integration)
This new energy model creates challenges for utility system operators, yet numerous case studies prove strong network reliability and security of supply.  Sensors throughout the network (

on graphic) give real-time information about variable sources of generation, customer demand and transmission loads.
When the World Bank takes the lead, you are assured that engineers, economists and bankers have evaluated the strategy from all angles.  They declared: "The Renewable Electricity Grid: The Future is Now." We agree. Take this message to your state and national leaders and ask for their commitment. Linking renewable energy resources around the world is an idea whose time has come!
In Partnership for the Planet,
P.S. Your financial support and sharing of this newsletter helps to accelerate this work. Call or email us to discuss your further involvement.
P.P.S. Review each of our projects, and Register your interest and ideas:
We invite your support of our work. It's easy with our secure Support page.
---