J u n e 2 0 1 8 — Volume 26, Issue 06

GENI-us Letter 2018-06
Solar & Wind Dominate New Generation Capacity:
  Renewables Reap 2x Fossil Fuels & Nuclear
Dear GENI Friend,

We are experiencing a sea change in global energy development. What used to be called "alternative energy" is now the leading source of new electrical energy: solar, wind, hydro and biopower. Over $310 billion was invested last year in these clean energies — predominately in China ($126 billion),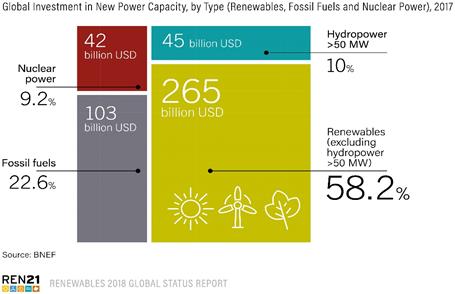 the European Union ($41 billion), and United States ($40 billion).
These investments are annual and will continue in order to meet the projected $44 trillion investment required to meet global energy demand in 2050.
Wall Street investors, utilities, project developers, planners and governments have all embraced renewables as safe, cost-competitive and carbon free.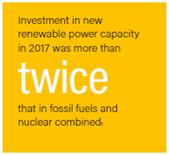 This REN21 report: "Renewables 2018 Global Status Report" (www.ren21.net/gsr) is both optimistic and cautionary. One warning states that this "pace is too slow to meet the Paris Climate Goals or the UN Sustainable Development Goals."
You can participate in this movement. Invest. Ask your Company and City to take the 100% Renewable Pledge.  This renewable train is unstoppable. Learn what you can do. It is worthy of your time and attention.
In Partnership for the Planet,
P.S. We need your investment too! Contribute a monthly pledge so GENI can continue this effort.
---