Library >> Current Articles on Renewable Energy Resources and Transmission >> H2/Electric Vehicles

Articles on H2/Electric Vehicles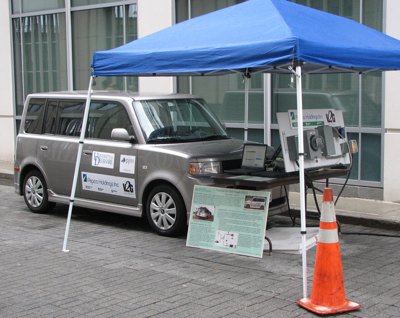 Electric Vehicle
Indianapolis: First US City to Require Electric Vehicles
Dec 17,2012 - sustainablebusiness.com

Indianapolis is the first city in the US to mandate the conversion of its fleet to clean vehicles.


Startup announces big breakthrough for electric vehicle batteries
Mar 7, 2012 - Dana Hull - physorg.com

For years, the electric vehicle industry has been eager to build a better electric car battery: one that extends range while having a longer overall life, is affordable, quick-charging and safe.


OriginOil Study Concludes Algae Producers Can Make Gasoline and Diesel For as Little as $2.28/Gallon
Mar 1, 2012 - www.ewire.com

OriginOil, Inc. (OTC/BB: OOIL), developer of a breakthrough technology to convert algae into renewable crude oil, today announced a new company study indicating for the first time that algae producers worldwide can now make transportation fuels cost-effectively themselves.


Geothermal Power Plants Could Help Produce Lithium for Electric Cars
Oct 20, 2011 - David Biello - scientificamerican.com

A new process aims to extract lithium from the brines used to generate electricity in a geothermal power plant


Future of electric cars hinges on better batteries
Oct. 7, 2011 - Dana Hull - mercurynews.com

Electric cars are a game-changing technology with an Achilles' heel — the battery.
Current batteries are expensive and have limited range, making it hard to drive from San Jose to San Francisco and back without stopping to recharge. Experts agree consumers will never fully embrace electric vehicles until they can travel as far as a gas-powered car on a single charge.


Will Germany Become First Nation with a Hydrogen Economy?
Sep 27, 2011 - scientificamerican.com

Germany will become the first country completely accessible to fuel cell vehicles in 2015, when carmaker Daimler and the Linde technology group will build 20 new hydrogen filling stations. The result will quadruple the number of public stations available and make it possible for a fuel cell vehicle to reach any location in the country.


Hertz and Enterprise to rent EVs in 2011
Sept. 16, 2011 - Grant Banks - gizmag.com

Electric rental cars are set to take to the streets next year with both the Hertz and Enterprise Rent-A-Car companies committing to adding electric vehicles to their fleets. Next week (December 15) Hertz plans to begin its ConnectByHertz car sharing program in New York City with the service expanding to San Francisco, Washington D.C, Texas, London and China by the end of 2011. Meanwhile Enterprise has announced that from January 2011 they will begin rolling out EV rentals in Phoenix, Tucson, Knoxville, Nashville, San Diego, Los Angeles, Portland and Seattle, although it is not clear how many vehicles will be available at each location and from what date.


AeroVironment to light up I-5 with EV chargers, add 'Oregon Trail' to the Green Highway
Sept. 16, 2011 - Sean Buckley - engadget.com

Retire your oxen and sell your wagon, the Oregon Trail just went electric. Okay, not the real, historic Oregon Trail, but a respectable 150-mile stretch of Interstate Five. The Oregon Department of Transportation is teaming up with AeroVironment to dot an undisclosed number of 480-volt Level 3 chargers between the California / Oregon state border and the Willamette Valley area as part the West Coast Green Highway initiative. The project aims to cover the entire I-5 corridor with electric vehicle chargers, spanning from the tip toe of the Golden State, all the way up to Washington's hat. Oregon's leg of the project should be ready for drivers this fall, making roadtrips to the Beaver State accessible to EV owners -- dysentery free. Hit the break for dry, but factual press release.


Luxury cars go green
Sep 8, 2011 - William Loeffler - pittsburghlive.com

Luxury cars are are turning over a new, greener leaf.


Our electric highway will kickstart Britain's green car revolution
Sep 1, 2011 - Dale Vince - guardian.co.uk

Today we launched the world's first national charging network for electric cars. That may sound a bit grand, for something quite wonderfully simple - a series of charging posts installed by Ecotricity at motorway services up and down the country. Charging stations, for electric cars, that are easy to access and free to use. Enabling Britain's electric car drivers to drive the length and breadth of the country, with all the convenience of simply pulling into a motorway service station to top up.


EV Life Cycle Cost
June 4, 2011 - cleancaroptions.com

Life cycle cost summary: Battery EVs cost more than fuel cell EVs, but fuel costs are less for battery EVs. Fuel savings with battery EVs can offset the higher vehicle costs for BEVs with less than 150 miles range, but for BEVs with more than 150 miles range, fuel cell EVs with 350 miles range will have lower life cycle costs (fuel, vehicle, maintenance, etc.)


EPRI Publishes Basic Consumer Guide about Electric Vehicles
May 22, 2011 - energycentral.com

The Electric Power Research Institute (EPRI) has published a basic consumer guide that addresses questions about electric vehicle technology and performance. With a variety of electric and hybrid technologies now available commercially, potential buyers are looking to understand which options might best match their needs.


Most U.S. Consumers Want to Buy an Electric Vehicle
May 15, 2011 - energycentral.com

Plug-in electric vehicles may just be entering the market, but most U.S. consumers are ready to buy them. E Source recently analyzed data from the Nielsen Energy Survey and found that 85 percent of U.S. consumers say they would purchase a battery-driven car either right away (3 percent), when their current car needed replacement (57 percent), or when the technology is proven and it becomes more mainstream (25 percent). The caveat is that consumers strongly prefer (58 percent) plug-in hybrid electric (PHEV) versions such as the Chevrolet Volt. PHEVs have greater range than electric-only cars like the Nissan Leaf and only 8 percent of consumers prefer them. "We are seeing a substantial willingness for drivers to move to plug-in electric vehicles, but only if the manufacturers can provide the easy extended range of travel that Americans are used to," says Bill LeBlanc, senior advisor at E Source.


Five business models to boost electric cars
May 15, 2011 - Martin LaMonica - news.cnet.com

WASHINGTON--Everybody wants an auto battery breakthrough that will lead to longer driving range and lower prices than what's found with oil-powered autos. But while scientists are busy at work on the technology, there are a number of clever business ideas to make transportation cleaner and cheaper.


Electric-vehicle technology accelerates toward tipping point
May 01, 2011 - energycentral.com

When oil hit a record price of $147 a barrel in July 2008, it was a game-changing moment that sparked a serious push to create electric cars and hybrid electric engines that could help wean Americans off oil. Today, crude is back over $100 a barrel and the payoff is the first generation of mass-produced electric cars rolling off production lines.



Reno Contracting and Envision Solar team up for solar-power charging stations for electric cars
Apr 20, 2011 - Syanne Olson - pv-tech.org

Envision Solar will be collaborating with Reno Contracting on the development of several Envision Solar Tree solar parking arrays using Envision's CleanCharge and EnvisionTrak technology. The solar-power charging stations for electric cars will be built across various locations in the southwest U.S. The first project is scheduled to commence during 2011's second quarter followed by a multi-location construction at corporate and commercial properties through 2011 and beyond.



Hawaii to build electric car charging stations
Mar 27, 2011 - pro.energycentral.com

Auto experts say electric vehicles are a practical alternative to gasoline-powered cars, at least for some drivers. The biggest challenge for the auto industry is expanding the infrastructure for recharging the vehicles.



The Algae Appeal: Recyling Carbon to Make Transport Fuels
Mar 19, 2011 - Ken Silverstein - energybiz.com

Auto experts say electric vehicles are a practical alternative to gasoline-powered cars, at least for some drivers. The biggest challenge for the auto industry is expanding the infrastructure for recharging the vehicles.



Infrastructure is Challenge for Electric Vehicle Owners
Mar 19, 2011 - Voice of America News/ContentWorks - energycentral.com

Auto experts say electric vehicles are a practical alternative to gasoline-powered cars, at least for some drivers. The biggest challenge for the auto industry is expanding the infrastructure for recharging the vehicles.



Electricity prices could be impacted by when electric vehicles charge up
Mar 13, 2011 - Julie Wernau - Chicago Tribune - energycentral.com


Only a few people in the Chicago area will be part of the first wave of electric vehicle owners later this year. But their charging habits have the potential to affect everyone's electricity prices.



California Prepares for Influx of Electric Vehicles
Mar 09, 2011 - California Energy Markets - energycentral.com


While electric vehicles are still a relative rarity in California, efforts are already under way to prepare for a future when a lot more people will be relying on the grid to "fuel up." And a new report published this month by Pike Research indicates that future could be just around the corner.



DOE Transportation Budget Is All About EVs
Mar 05, 2011 - John Gartner - matternetwork.com


The 2012 Department of Energy budget submitted to Congress on Monday includes a 20-page section on Vehicle Technologies (VT), and nearly every word of it refers to vehicle electrification. In language of funding dollars, the VT budget jumps by 80 percent from $325 million to $588 million.



DOE Releases New Analysis Showing Significant Advances in Electric Vehicle Deployment
Feb 26, 2011 - Energy Department Documents and Publications/ContentWorks - energycentral.com


The U.S. Department of Energy today released One Million Electric Vehicles by 2015, an analysis of advances in electric vehicle deployment and progress to date in meeting President Obama's goal of putting one million electric vehicles on the road by 2015. The analysis shows that while the goal is ambitious, it is also achievable based on steps already taken as part of the Recovery Act and additional policy initiatives proposed by President Obama -- including improvements to existing consumer tax credits, programs to help cities prepare for the growing demand for electric vehicles, and strong support for research and development to continue reducing the cost of electric vehicles.


Why Electric Vehicles Will Reduce Greenhouse Gas Emissions
Feb 6, 2011 - Tam Hunt - renewableenergyworld.com

A recent article by John Peterson argued that electric vehicles will take us backward in our efforts to reduce greenhouse gas emissions and that today's hybrid cars are more effective in reducing GHGs. Peterson's commentary rests on recent research by Carnegie Mellon University regarding life-cycle emissions of various vehicle types.


Electric car tops 600 kilometres on test drive in Germany
Oct 29, 2010 - Jean-Baptiste Piggin - dpa - McClatchy Tribune

A battery-powered Audi arrived in Berlin Tuesday after a 600-kilometre overnight drive from Munich with promoters saying it was the world's longest such ride by a regular car.


UPS Purchases 130 Hybrid Electric Vehicles
Oct 18, 2010 - Business Wire

UPS (NYSE: UPS) today announced the purchase of 130 next generation hybrid electric vehicles (HEV) to add to its growing alternative-fuel vehicle (AFV) fleet.


Solar power could create fuel for cars
Jul 12, 2010 -

United Press International

- Energy Central

Carbon dioxide in the atmosphere could soon be used to create fuel to drive the word's cars and trucks, researchers say.


Utilities preparing for electric cars
Jun 21, 2010 -

New Haven Register

- Energy Central

Utilities in Connecticut and across America are preparing for the debut at the end of the year of battery-powered electric vehicles and cars that run on both electricity and gas.


4.7 million EV charging units expected by 2015
Jun 18, 2010 -

McClatchy



The first affordable mass-produced electric vehicles will hit the streets of America later this year. Once the Nissan Leaf begins to make its way from dealerships to consumers, the electric vehicle charging revolution will begin.

Interest in electric surges
Jun 18, 2010 -

McClatchy-Tribune

- Energy Central

Volkswagen and other German car makers are investing heavily in electric vehicles and bringing more green autos to dealerships near you soon, industry experts said Thursday.


Steel City Project Converts Gasoline Cars to Run on Electricity
Jun 9, 2010 - Saqib Rahim - Scientific American

Chuck Wichrowski remembers the first car he ever worked on, when he was just a college graduate and knew nothing about cars: His wife's 1970 Chevy Nova.


State utilities gearing up for electric cars' needs
May 27, 2010 -

New Haven Register



With the first mass market electric cars expected to be on showroom floors by the end of the year, the state played host to a forum examining how the market for such vehicles will develop.


SAE International Develops New Standard for Communication Between Plug-In Electric Vehicle and Utility Grid
May 24, 2010 -

PRNewswire

- Energy Central

As plug-in electric vehicles become more common in garages and carports around the nation, the result will be an increased demand on local utility grids that supply the power to charge them.


Preparing for the Coming Wave of Electric Cars
May 11, 2010 - Stephen Lacey - renewableenergyworld.com

Electric vehicles are here. With almost every major car company developing a plug-in hybrid or all-electric model for the U.S. this year, the market looks poised for solid growth. But will utilities and consumers be able to handle the new challenges that electric vehicles pose to the grid?



Korea's Online Electric Vehicle Gathers Power From The Road Through Wireless Induction
May 12, 2010 - Clay Dillow

It seems like every week there's a new scheme for making electric vehicles a reliable transportation option for the masses


Mitsubishi uses wind power to charge electric vehicles
Mai 3, 2010 -

AsiaPulse

- energycentral.com

Mitsubishi Corp. (TSE:8058) and the Tokyo Institute of Technology have devised a method to use excess wind power produced at night to charge electric vehicles.


Race is on to build electric vehicle charging stations
Mai 3, 2010 -

Dana Hull - San Jose Mercury News



Electric vehicles are no longer a technology of the future. Californians will be driving the Nissan Leaf and Coda Sedan by the end of the year, and several other automakers have all-electric and plug-in hybrid models in the pipeline.


Smart charging of electric vehicles using 'green' power at Fraunhofer ISE
Mai 3, 2010 - renewableenergyfocus.com

Electric vehicles make most sense if their batteries are charged using electricity from renewable energy sources – but the supply of 'green' electricity is not always adequate.


Unplugged
Apr 20, 2010 - washingtonpost.com

PRESIDENT OBAMA has called for 1 million plug-in electric vehicles on U.S. roads by the year 2015. This sounds ambitious, until you consider that there are 241 million vehicles in operation, according to the R.L. Polk automotive information service.

UPS Deploys 200 Hybrid Electric Vehicles
Apr 13, 2010 - csrwire.com

UPS (NYSE:UPS) today announced its fleet of alternative-fuel vehicles had expanded with the deployment of 200 next-generation hybrid electric delivery trucks in eight U.S. cities.


Electric vehicles: Sprouting a new industry
Apr 13, 2010 - Brent Snavely and Jewel Gopwani - Detroit Free Press

The race to develop electric vehicles is generating billions of dollars of investments as a new set of companies vies for a piece of this expanding global market.


Electric-vehicle price war erupts in Japan
Mar 31, 2010 -

The Yomiuri Shimbun



The first shots have been fired in a price war in the electric vehicle market.


North American Grid Operators Assess Impact of Electric Vehicles
Mar 23, 2010 - BUSINESS WIRE

As automakers ramp up production of plug-in electric vehicles (PEVs), a group of U.S. and Canadian power grid operators who manage most of the North American bulk electric grid collectively studied the effect that PEVs would have on the electric power grid.


Electric Vehicles Charge Ahead in US
Mar 23, 2010 -

Voice of America News/ContentWorks



What's billed as the biggest rollout of electric vehicle infrastructure in the world is about to begin in the United States.


Toyota, Nissan, others set up electric car group
Mar 15, 2010 - Yuri Kageyama - AP

Toyota and three other Japanese automakers together with a power company have set up a group to promote electric vehicles by standardizing recharging machines and marketing the technology abroad.


Electric car lets drivers sell back unused watts
Feb 22, 2010 -

Dick Ahlstrom - Yellowbrix



AAAS annual conference: Researchers have come up with the ultimate vehicle - an environmentally friendly electric car that plugs into the wall to sell power back to the electricity company.


Plugging Highway Vehicles into the Electric Grid
Feb 19, 2010 - Lauren Morello - Climatewire

If enough plug-in electric vehicles communicate with the grid, they could provide cheap storage for excess electricity


New ORNL system provides hybrid electric autos with power to spare
Feb 11, 2010 - Oak Ridge National Laboratory (ORNL)

An advancement in hybrid electric vehicle technology is providing powerful benefits beyond transportation.


Spain Power Grid Can Feed 10 Million Electric Cars-Iberdrola Chairman
Feb 9, 2010 - Dow Jones

Spain's electricity system can supply power to some 10 million electric cars if charging were to be made at night when general demand is low, Ignacio Galan, chairman of electricity company Iberdrola SA (IBE.MC), said Tuesday.


Plug-in Electric Cars Can Lower Global Warming Emissions, Oil Consumption and Unhealthy Air Pollution
Jan 20, 2010 Environment America

Detroit, MI —Increasing America's use of plug-in electric (PEV) and plug in hybrid vehicles (PEHV) would dramatically reduce emissions that cause global warming and air pollution and would curb our dependence on oil, according to a new white paper released today by Environment America, at the North American International Auto Show.


Popularity of electric cars will force governments to alternative taxes: analysts
Jan 19, 2010 - Ross Marowits - The Associated Press

The eventual popularity of electric cars will force governments to consider alternative revenues as they prepare to wean themselves off fuel taxes, industry observers say.


Electric cars: Race is on, and the road is jammed
Jan 13, 2010 - - Brent Snavely - Detroit Free Press

The road for electric vehicles is starting to get jammed -- and no one's sure where it leads.


Electric companies need upgrades for plug-in cars
Jan 13, 201`0 - Brent Snavely Detroit Free Press - McClatchy-Tribune Regional News

Preparing America's neighborhoods to handle the additional power load that electric vehicles are expected to require is among the challenges facing the utility and automotive industries as plug-in electric vehicles are introduced, DTE Energy Chairman Tony Early said today.


Coal trips India's electric car revolution
Jan 5, 2010 - McClatchy-Tribune Regional News - Samar Halarnkar Hindustan Times

Twenty-four hours before the world's most-attended auto show began, actor Rahul Bose had decided his next car: A four-door Reva NXR made in Bangalore.


Dec 21, 2009 - First Enercast Financial

Many utilities, particularly on the West Coast, are scrambling to prepare for all the electric cars set to hit U.S. showrooms in 2010 as the power companies attempt to avoid any technical snafus.


Group urges gov't to invest in electric cars
Nov 16, 2009 - KEN THOMAS - WASHINGTON - (The Associated Press)

A group of businessmen on Monday launched a new coalition to urge the federal government to make a major investment in electric transportation, pointing to electric cars as the best way to confront the nation's dependence on imported oil.



"Better Place will spend $1.1b on Israeli electric car project"
Nov 4, 2009 -

McClatchy-Tribune Regional News - Dubi Ben-Gedalyahu Globes, Tel Aviv, Israel



Better Place will have to invest $1.1 billion over the next six years to buy the batteries and build the battery replacement centers and recharging points for its electric car venture in Israel alone, according to a report by Deutsche Bank on electric cars.


Nissan to sell electric-powered vehicles in Mexico City in 2011
Oct 29, 2009 - EFE

Japanese automaker Nissan Motor Corp. and the Mexico City government reached an agreement "to begin the large-scale sale of cutting-edge, electric-powered vehicles in the capital by the end of 2011," officials said.


Fisker Automotive to retool GM plant to make electric cars
Oct 27, 2009 - Steve Gelsi - MarketWatch

Electric-car start-up Fisker Automotive said Tuesday it'll invest nearly $200 million to buy and retool a former General Motors plant in Wilmington, Del., facing off against Honda Motor Co., Toyota Motor Corp. and other big manufacturers in the nascent market for electric vehicles.


Zero-emissions ultracapacitors recharge in minutes
Oct 26, 2009 -

McClatchy-Tribune Regional News - Tim Devaney The Washington Times



When the bus driver started the new electric engine, it was so quiet he turned the key twice to make sure it was running.


Utility Companies in the Northeast Launch Regional Electric Vehicle Initiative (REVI)
Oct 22,2009 - PRNewswire

A group of utility companies that provide electricity to customers in several Northeast states have formed the Regional Electric Vehicle Initiative (REVI) to encourage collaboration among entities interested in advancing electric transportation.


US Report: Electric Cars No Greener
Oct 21, 2009 - Irish Times

Electric cars will not be dramatically cleaner than those powered by fossil fuels until they rely less on electricity produced from conventional coal-fired plants, say US scientists.


ComEd Awarded $4 Million in Federal Economic Stimulus Funding To Expand Green Vehicle Fleet and Test Impact on Electric Grid
Oct 16, 2009 - PRNewsWire

ComEd today announced it has been awarded a total of $4 million in federal economic stimulus funding to expand one of the nation's largest private fleets of alternative-fuel vehicles and test solar-powered vehicle charging infrastructure as part of its study of plug-in electric vehicle usage and its impact on the electric system.

FPL Group and Duke Energy Investing $600 Million to Convert Vehicles to Plug-in Hybrid or Electric by 2020
Sep 24, 2009 - Business Wire

FPL Group, Inc. (NYSE:FPL) and Duke Energy (NYSE:DUK) today announced a commitment to transition their company cars and trucks to plug-in hybrid or all-electric vehicles.


As hybrid cars gobble rare metals, shortage looms
Aug 31, 2009 - Steve Gorman - Reuters

The Prius hybrid automobile is popular for its fuel efficiency, but its electric motor and battery guzzle rare earth metals, a little-known class of elements found in a wide range of gadgets and consumer goods.


Honda to sell electric cars in US
Aug 22, 2009 - Associated Press

TOKYO - Honda Motor Co. plans to introduce electric vehicles in the U.S. early next decade, joining a growing number of automakers vying for the lead in clean technology development, local media reported Saturday.


Germany jumps in the race for viable electric car
Aug 19, 2009 - Geir Moulson and Matt Moore - Associated Press

Germany - home to brands including Volkswagen, Porsche and BMW - became the latest country to fast track development of electric cars, the government approving a plan Wednesday that aims to put 1 million of them on the road by 2020.


Ford plans vehicles to interact with power grids
Aug 18, 2009 - Kimberly S. Johnson - Associated Press

Ford Motor Co. said Tuesday its future electric cars will "talk" to power grids across the country, allowing car owners to control when they charge vehicles and for how long.


Will electric cars wreck the grid?
Aug 13, 2009 - Colin Sullivan - Scientific American

Plug-in electric cars could destabilize the distribution of power, a utility executive cautioned at a conference here this week.


Recovery Act Announcement: President Obama Announces $2.4 Billion in Grants to Accelerate the Manufacturing and Deployment of the Next Generation of U.S. Batteries and Electric Vehicles
Aug 5, 2009 - EERE

Further accelerating the manufacturing and deployment of electric vehicles, batteries, and components here in America, and creating tens of thousands of new jobs, President Obama today announced 48 new advanced battery and electric drive projects that will receive $2.4 billion in funding under the American Recovery and Reinvestment Act. These projects, selected through a highly competitive process by the Department of Energy, will accelerate the development of U.S. manufacturing capacity for batteries and electric drive components as well as the deployment of electric drive vehicles, helping to establish American leadership in creating the next generation of advanced vehicles.

San Diego Selected As Target Market for Largest Transportation Electrification Project in U.S. History
Aug 5, 2009 -

MARKETWIRE



San Diego Gas & Electric (SDG&E), San Diego Association of Governments (SANDAG) and Electric Transportation Engineering Corporation (eTec) today announced that eTec, a leader in the research, development and testing of advanced transportation and energy systems, has been selected by the U.S. Department of Energy to implement the largest transportation electrification project in U.S. history through a $99.8 million grant.


Grants aim to rev alternative vehicle technology
Aug 5, 2009 -

The Associated Press



President Barack Obama, Vice President Joe Biden and other administration officials took to separate stages nationwide Wednesday to announce $2.4 billion in federal grants to develop next-generation electric vehicles and batteries.


Plug-In Hybrid Electric Vehicles Excel on Gas Mileage, Reduce Emissions, SDG&Amp;E Study Confirms


Jul 15, 2009 - MARKETWIRE



Two years after unveiling San Diego's first state-of-the-art plug-in hybrid vehicle, SDG&E said the third phase of its multi-year study reveals that plug-in hybrids offer significant improvements in gas mileage and reductions in emissions when compared with standard hybrid and gasoline vehicles.


Portugal creates electric car recharging network
Jun 29, 2009 - The

Associated Press



Portugal announced a plan Monday to install about 1,300 recharging sites for electric vehicles over the next two years, part of an effort to create a mass market for environmentally friendly electric cars expected to go on sale next year.


Electric vehicles on the grid
Jun 23, 2009 - Pike Research

Residential, Public, Private, and Workplace Charging Stations, EV Charging Business Models, and Vehicle to Grid Technology.


Customizable Interactive Map Shows U.S. Alternative Fuel Data
Jun 9, 2009 - NREL

The U.S. Department of Energy (DOE) and the National Renewable Energy Lab (NREL) announced the launch of a comprehensive mapping tool to help industry and government planners implement alternative fuels and advanced vehicles. The new TransAtlas tool combines several different types of geographic data to identify areas with potential for developing advanced transportation projects. It is sponsored by DOE's Clean Cities initiative, which aims to reduce petroleum consumption in the transportation sector by promoting advanced vehicle technologies and alternative fuels. This interactive mapping tool is available by visiting www.afdc.energy.govand clicking on the TransAtlas icon.


Electric Vehicles Could Surpass Grid or Support It
May 28, 2009 - Jeff St. John - greentechgrid.com

If a quarter of America's cars went electric, they could store more energy than that produced for the nation's entire electricity grid, an expert on electric transportation says. Making them a backup power source for the grid faces significant challenges, however.


UTS Hails Electric Car That Pumps Energy Back into Grid
Apr 23 -

AAP General News Wire



Australian engineers have developed a plug- in hybrid electric car that not only generates power but can pump it back into the grid, potentially reducing running costs.


Congratulations Fisker for raising $85 million for your electric Vehicle, the Fisker Karma
Apr 7, 2009 - AlternativeEnergy.com

Fisker Automotive, Inc., a leading producer of advanced green technology automobiles, announced today it has entered into definitive agreements to receive an additional $85 million in venture capital funding for the development and manufacturing of its Karma plug-in hybrid automobiles. The financing is expected to be completed this month and will be the fourth and largest investment round since the company's inception in August 2007.


Nissan In Electric Car Tie-Up With San Diego Utility
Mar 24, 2009 -Planetark

DETROIT - Nissan Motor Co said on Monday it has formed a partnership with utility company San Diego Gas & Electric to develop an infrastructure that would provide charging stations for electric car owners.


Phone battery set to lead revolution in electric cars: report
Mar 12, 2009 -

Asia Pulse Data Source





Washington

- Scientists have created a revolutionary mobile phone battery that can be charged in just 10 seconds, a development that could usher in a new era of electric cars, a news report has said.


IBM Joins EDISON Project to Build Smart Grid for Electric Cars
Feb 25, 2009 -

MARKET WIRE



IBM (NYSE: IBM) today announced its membership in the EDISON research consortium, a Denmark-based collaborative aimed at developing an intelligent infrastructure that will make possible the large scale adoption of electric vehicles powered by sustainable energy.


Controlling Heat Key to Hybrid Performance
Feb 23, 2009 - NREL

From Tokyo to Detroit, this year's buzz on the auto show circuit is all about really new cars — plug-in hybrids, gas-electric hybrids, electric cars and more.


Delaware Town Becomes First U.S. City to Use Cars for Grid Power
January 22, 2009 - Ariel Schwartz - GreenBiz.com

Earlier this month, the Delaware town of Newark became the first U.S. city to use Vehicle to Grid (V2G) technology. V2G relies on electricity-powered vehicles to store energy and improve grid reliability.


Electric cars coming soon to a road near you
Dec 26, 2008 - McClatchy-Tribune Regional News - Matt Nauman - San Jose Mercury News

Tom Gage is a patient man. As chief executive of AC Propulsion, he's watched the ebb and flow of electric-car momentum for more than a decade.


EOS, Renault-Nissan Alliance to Develop Zero-Emission Mobility Solutions
Dec 17, 2008 - Datamonitor

Swiss electric utility company Energie Ouest Suisse and the Renault-Nissan Alliance have signed a memorandum of understanding to develop solutions for zero-emission mobility in Switzerland through the promotion of electric vehicles and the establishment of a battery-charging network.


Better Place joins Japan electric vehicles project
Dec 9, 2008 - The Associated Press

TOKYO - Better Place, a U.S. company that promotes electric vehicles, said Tuesday it will build battery exchange stations in Japan as part of a government pilot project to encourage the use of green cars.


Startup wires parking lot for electric cars
Dec 8, 2008- Shawna Ohm - The Associated Press

TEL AVIV, Israel - Instead of filling up at the pump, soon Israeli motorists will be able to fill their cars up at the plug. That's the idea behind Monday's demonstration of the parking lot of the future, equipped with stations to charge the battery-powered cars scheduled to ply Israel's streets in 2011. Israel's government has endorsed the project, which aims to blanket the country with electric cars and plugs.


France earmarks $549 million for green cars
Oct 9, 2008 - The Associated Press

French President Nicolas Sarkozy on Thursday pledged 400 million euros ($549 million) in state support for the development of electric and hybrid cars.


Plug-In Hybrid Electric Vehicles Excel on MPG and Emissions Reductions, SDG&E Study Confirms
Sep 24, 2008 -- MARKET WIRE

SAN DIEGO, CA. - A year-long study by San Diego Gas & Electric (SDG&E) has confirmed the viability of electricity as a clean and low-cost transportation fuel and the advantages that plug-in hybrid electric vehicles offer over standard hybrid electric vehicles for increased gas mileage and lower tailpipe emissions.


GM unveils electric Volt in bid to recharge sales
Sep 16, 2008 - Reuters

General Motors Corp unveiled on Tuesday the production version of its highly anticipated Chevrolet Volt, a plug-in electric car that is the centerpiece of its effort to move away from gas-guzzling SUVs and recharge sagging sales.


Electric car to go on sale in Chile Santiago
Jul 29, 2008 - EFE via COMTEX

A subsidiary of giant Spanish utility Endesa presented here Tuesday a zero-emissions electric car that can reach speeds of up to 80 kph (50 mph) and has a range of 80 kilometers.


Nissan plans electric cars in Portugal
Jul 9, 2008 - Yuri Kageyama - The Associated Press

Automakers Nissan and Renault will sell electric vehicles in Portugal in 2011 and the allied companies have partnered with the government in an attempt to create a national network of charging stations.


Washington: Plug-in hybrids gaining ground but still face challenges
Jul 7, 2008 - Herman Wang - Chattanooga Times/Free Press, Tenn.- McClatchy-Tribune Regional News

Within five years, Sen. Lamar Alexander predicts, tens of thousands of Tennesseans will be driving plug-in hybrid cars, part of a nationwide wave that could cut the country's oil imports by a third.


Fuelling debate on electric cars
Jun 27 2008 - Edward Stephens - Birminghammail.net

WITH the situation in the Middle East being so volatile it's hardly surprising that Israel worries about the future source of petrol for its citizens' cars.


GE tapped to help design electric car
Jun 24, 2008 - Larry Rulison - timesunion.com

ISKAYUNA -- General Electric Co. has been awarded part of a $30 million contract from the U.S. Department of Energy to help the auto industry develop a cost-effective and reliable plug-in hybrid electric car.


NREL Joins with A123Systems to Improve Advanced-Vehicle Batteries
Jun 19, 2008 - NREL Press Release

Safe, powerful, and long-lasting batteries key to more fuel-efficient cars - The U.S. Department of Energy's National Renewable Energy Laboratory (NREL) and A123Systems have teamed up to support the battery-maker's effort to develop safe, less expensive, more powerful, and longer lasting batteries for hybrid-electric vehicles. The Laboratory and the battery-maker have signed a three-year, Cooperative Research and Development Agreement to examine and develop new techniques to improve thermal management in advanced transportation batteries.


TVA could handle charging of electric-powered cars
Jun 17, 2008 - McClatchy-Tribune Regional News - Tom Humphrey - The Knoxville News-Sentinel, Tenn.

TVA Chairman Bill Sansom told a panel of congressmen Monday that the agency could easily handle future demand from electric-powered cars and offer a 20 percent discount -- so long as batteries are charged at night.


Toyota promises plug-in hybrid by 2010
Jun 11, 2008 - Yuri Kageyama - The Associated Press

Toyota is introducing a plug-in hybrid with next-generation lithium-ion batteries in Japan, the U.S. and Europe by 2010, under a widespread strategy to be green outlined Wednesday.


Utilities Jump on Board to Plan for a World of Plug-in Cars
Mar 31, 2008 - USA Today

In a sign of accelerating progress on plug-in hybrids -- the 100 mpg vehicles you can't yet buy in showrooms -- electric utilities quickly are linking with automakers and tech companies to develop "smart-charging" technology that controls when and how fast a vehicle is recharged.


Revival of the Electric Car
Mar 21, 2008 - Detroit Free Press

The electric car has risen again. Within four years, at least two Japanese automakers plan to have all-electric cars on American roads. Several other automakers from around the world, including Ford Motor Co., are mulling similar vehicles.


Hybrid cars may affect power distribution
Mar 19, 2008 - UPI

U.S. government scientists have found the increasing use of plug-in hybrid electric cars and trucks might substantially affect power distribution.


MPSC Initiates Pilot Program to Integrate Plug-in Hybrid Electric Vehicles into the Electric Grid
Mar 11, 2008 - The Michigan Public Service Commission

The Michigan Public Service Commission (MPSC) today initiated a pilot program designed to integrate plug-in hybrid electric vehicles (PHEVs) into Michigan's electric grid, positioning the state to become a leader in this technology. The pilot program will be part of the MPSC's ongoing smart grid collaborative.


N.C. seeks research hub for plug-in cars
Feb 13, 2008 - The Associated Press

North Carolina State University plans to launch a research hub for the development of plug-in cars, a project that has attracted the interest of energy and automobile companies.


Renault-Nissan and Project Better Place Prepare for First Mass Marketed Electric Vehicles
Jan 21, 2008 - PRNewswire-FirstCall

In a significant move towards reducing CO2 car emissions as well as particles pollution, the Renault-Nissan Alliance and Project Better Place engage in a breakthrough with electric vehicles in Israel.


Electric Car Plugs into Power Grid
Nov 12, 2007 - PRNewswire

VALLEY FORGE, Pa. - PJM Interconnection will host a presentation and demonstration on Nov. 14, 2007 of an electric vehicle adapted to plug into and receive power dispatch commands from the power grid. The event will be held at PJM's Valley Forge campus. The demonstration will take place from 11 a.m. to 1 p.m. Prior to the demonstration, Dr. Willett Kempton, the lead researcher of the Vehicle-to-Grid (V2G) initiative and associate professor of the University of Delaware, will be giving a presentation from 10 a.m. to 11 a.m.


Government to encourage electric cars: The government will consider deploying a national infrastructure for electric cars
Nov 11, 2007 - McClatchy-Tribune Regional News - Lilach Weissman and Dubi Ben-Gedalyahu Globes

Prime Minster Ehud Olmert announced today that the government would encourage the development of electric vehicles. Olmert was speaking at the weekly cabinet meeting in which the ministers discussed "green" transportation moves which would conserve energy and help the environment. Olmert said that the government would consider granting experimental incentives to companies and factories that produced electric cars and would also consider deploying a national infrastructure that would enable electric cars to drive on Israel's roads.


Idaho energy lab tests plug-in hybrid cars in Seattle
Nov 6, 2007 - The Associated Press

Fill it up, plug it in, then drive. And drive. And drive. That's the dream, anyway, of an Idaho National Laboratory program testing 13 Toyota Prius hybrid cars retrofitted with mileage-boosting batteries that can be plugged into a regular household electrical outlet when they're not in use to give them more oomph on the roads.


Electric Car Answers the 'Call of the Grid'
Oct 29, 2007 - AC Propulsion

In a demonstration of V2G sponsored by the Federal Energy Regulatory Commission, an electric vehicle plugged in at FERC headquarters and received power dispatch commands from PJM, the regional grid operator.


Study: Plug-in hybrids could reduce greenhouse gas emissions
Jul 19, 2007 - Ken Thomas - Associated Press

If motorists used rechargeable "plug-in" hybrid-electric vehicles in large numbers, the U.S. could see a significant drop in greenhouse gas emissions by the middle of the century, says a study released Thursday.


Ford and Southern California Edison Partner on PHEV Research
Jul 13, 2007 - Clean Edge News

Ford and Southern California Edison are combining resources to explore ways to make plug-in hybrid (PHEV) vehicles more accessible to consumers, reduce petroleum-related emissions and improve the cost-effectiveness of the nation's electricity grid.


Hybrids Spark Interest In Rechargeable Cars Advocates Push for More Electric-Powered Vehicles
Feb 1, 2005 - Mark Clayton - Christian Science Monitor

Not long after Dan Kroushl got his new 2004 Toyota Prius, he began to wonder about the mysterious button on the dash. It didn't seem to have any function. Didn't boost the turbo or engage an ejector seat. In online discussions with other Prius enthusiasts, Kroushl soon discovered the button did have a hidden function: It could turn the gasoline-electric hybrid into an all-electric car — for a mile or so on limited battery power.


'Hybrids' the next big thing for clean driving
Jan 2, 2001 - Toyota Press Release - Bloomberg

Toyota Motor Corp expects "hybrids", cars powered by petrol-electric engines, to become a pillar of low-pollution transport as air-quality laws get stricter and demand for fuel efficiency grows, according to Toyota president Fujio Cho.


---
Related GENI Resources
Definitions of Renewable Energy Resources

Renewable Energy Resource Maps

National Energy Grid Maps
Links
IREC Connecting to the Grid (Interstate Renewable Energy Council)

CIGRE: International Congress on Large High-Voltage Electric Systems
Email this page to a friend


keywords: Renewable Energy Resources, Library, Articles on H2/Electric Vehicles, sustainable development, global energy network institute, international electricity transmission, grid, power, environmental educational programs, peace, zero population growth, stabilization, life expectancy, infant mortality, free world energy trends, deforestation, climate change, global warming, world game, uhv, hvdc, hvac
Updated: 2016/06/30
If you speak another language fluently and you liked this page, make a contribution by translating it! For additional translations check out FreeTranslation.com (Voor vertaling van Engels tot Nederlands) (For oversettelse fra Engelsk til Norsk)
(Для дополнительных переводов проверяют FreeTranslation.com )