Library >> Global Energy Trend >>

Poor Energy Access Strangulating Africa's Progress — IEA
October 18, 2014 Niyi Aderibigbe VENTURES-AFRICA.com
Approximately half of Africa's fast-growing population lives in extreme poverty despite a sprouting economic fortune, as lack of access to energy remains a strangler of development, according to the International Energy Association (IEA), in its Africa Energy Outlook.
The International Monetary Fund (IMF) expects sub-Saharan Africa to grow by 5.8% next year, up from an estimated 5.1% for 2014. This growth rate albeit impressive has barely translated to proper socio-economic upliftment, and poor electricity infrastructure has been identified by IEA as a key impediment to growth. While domestic energy reform across the continent is gaining speed, two-thirds of energy investment since 2000 has been geared towards export.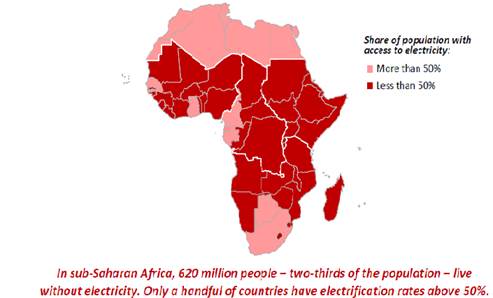 The IEA's Africa Energy Outlook noted that the continent was blessed with "large resource base, but the abundant resources have been exploited only in part in the case of oil, gas and coal, largely untouched in renewables."
According to the report, Africa's resource wealth has not translated into abundant supply, with 620 million people in sub-Saharan Africa — two-thirds of the population — living without electricity. Only a handful of countries have electrification rates above 50 percent. Nigeria, the continent's largest economy also languishes down the electrification table, with a 45% electrification rate.
Africa is however beginning to look inwards, with the future expected to hold more promise for the continent. IEA projects that "2 out of 3 future investment dollars" will produce energy for sub-Saharan consumers, although the association notes that more investments will still be needed. Looking further into the future, IEA projects that close to 1 billion people would have gained access to electricity by 2040, "but this still leaves 530 million (in 2040), primarily in rural communities, without power."
The report however encourages Africa to do more in improving its energy infrastructure, noting that it can, among other things, act as an engine of inclusive economic and social growth. "Energy is a cornerstone of sub-Saharan strategies for poverty reduction and economic growth," the IEA concluded in the report, stressing therefore the need for improvements in sector governance, which the organization noted was imperative, if Africa will welcome new investments into its energy sector and kick-start development.
---

Email this page to a friend


Updated: 2016/06/30
If you speak another language fluently and you liked this page, make a contribution by translating it! For additional translations check out FreeTranslation.com (Voor vertaling van Engels tot Nederlands) (For oversettelse fra Engelsk til Norsk)
(Для дополнительных переводов проверяют FreeTranslation.com )