The Next Generation
Today, our Mother Earth is facing critical problems she has never experienced before.

The fossil fuels we have long depended upon, such as petroleum and coal, are a nonrenewable energy source which will dry up in the not-so-distant future.

In addition, the natural environment of the earth is continuously deteriorating from air pollution, the global warming effect, and other environment disruptions caused by the consumption of such fuels.

It is critical for us to immediately develop an alternative renewable and clean energy source which will never run out or pollute the environment.

By the year 2050, the world's population is predicted to grow beyond its current level of 6 billion people to more than 10 billion. We must secure ample food to feed this massive population, and we must begin our efforts to secure such a supply now.

The Desert...

We are directing our attention to a forgotten territory of the Earth- the desert- realizing it is a largely unexplored frontier where we may be able to solve all of the above-mentioned difficult problems currently threatening the existence of human beings.

To resuscitate the desert as a fruitful oasis that will be a clean source of energy to serve our next generation- this is the underlying concept of the Desert Development Project.
Hidden Potential of the Sun
As an Energy Supply Base
One of the most anticipated alternative energy sources for the next generation is solar energy, which is virtually limitless and pollution-free.
The desert possesses the optimum meteorological conditions to function as a supply base for solar energy. The duration of sunshine in the desert is 2 to 3 times longer than anywhere in Japan. In addition to abundant energy, the vast expanse of area allows for mass production, while, at the same time, it helps to hold down the cost of generating energy.
For example, the estimated world demand for electricity in the year 2000 (oil conversion: 14 billion kiloliters/year) could be easily covered by installing solar cells covering only 4% (650,000 km²) of the total area of deserts on the Earth.
As Food-Supply Base
In order to solve the worldwide food shortage, the development of a vast network of farmland is essential. Therefore, the desert, which accounts for one-third of the land on the Earth, is expected to be an important base for food supply. The water issue must be resolved in order to convert desert land into farmland. Irrigation technology which utilizes the abundant underground water stored in the desert has been under development for some time. Solar power has a critical role to play in development of water sources, including underground water.
To Prevent Desertification
Deserts are gradually expanding, owing to various artificial factors which ignore the ecosystem of deserts. Our proposal to develop energy and farmland begins first with stabilizing the desert, thus enabling the desert to continue developing in perfect harmony with the ecosystem.
A First Step — China
We have been conducting a model study on development of a large-scale solar power station and farmland at a desert location in China.
China, the world's most populous country, is now facing serious shortages of energy and food. In addition, China is virtually dependent on coal as its sole energy source, thus incurring serious health risks from air pollution, acid rain, as well as desertification of its arable lands. Development of the desert areas in China could greatly contribute to China's economic growth, and, at the same time, have a far-reaching influence on the overall Asian economy by promoting related industries, including agriculture, and community development. We believe that our project will be a significant first step toward solving the various pressing ecological issues which effect us all on a global level.
Outline of Development
The illustration is an artist's conception of the Desert Development Project. The power station topped with solar cells is positioned at the center, farmland and pasture land are located in the surrounding areas, and research and housing facilities are scattered along the windbreak forests and streets, which run in a grid. This layout will be repeated in future development sites and form a total network.
1. Windbreak/Sandbreak Forests
Forests and pastures ranging in width from several hundred meters to several kilometers will be created in order to stabilize sand dunes and protect the power station and farmland.
2. Solar power stations

The key power stations of the project will be 2km² in size and have generating capacity of approximately 100,000 kW. Electricity generated at such power stations will be transmitted to major consuming cities, while portion of the electricity will be utilized within the area for agricultural development, and for residential and commercial use as well.
3. Farmland and Pasture Land
Agricultural development will be conducted by securing sources of water, including underground water, through utilization of solar energy. Precious water can be effectively used in farming by employing water-saving methods. In addition, the development of pasture land will be extensively undertaken, since raising livestock is one of the most practical activities in a desert.
4. Housing Facilities
Housing for those who work at the facilities will be constructed within the area.
5. Infrastructure
Infrastructure, such as highways which connect the area to nearby cities, power-transmission facilities, and commuter airports, will be constructed.
6. Research Centers
A comprehensive research center for desert development, as well as training/educational facilities for engineers (subjects will include agriculture and energy), will be constructed within the center of the area.

Other Desert-Related Projects
| | |
| --- | --- |
| | |
| Desert Dome Project | This ambitious project involves covering an expansive portion of desert land with a huge dome, then growing plants inside the dome, where they will be protected from the effects of severe weather conditions. Once afforestation is stabilized within the dome, the dome itself will be moved to the next location. Various technologies which encourage growth of plants without damaging the ecosystem will be utilized, holding the Underground Irrigation System, Plant Vitality Monitoring System and Soil Improvement System. |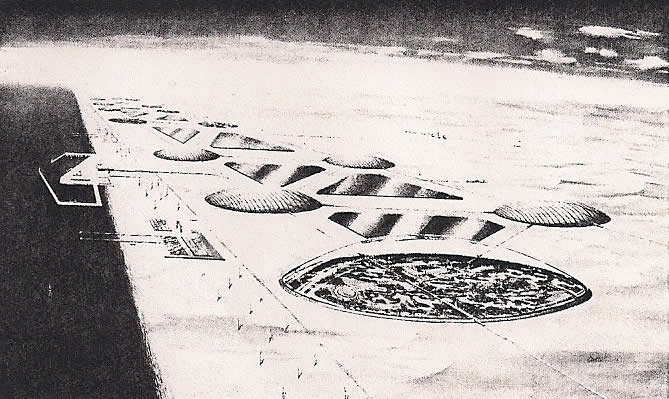 SRG (Silk Road Genesis*) Project

* Genesis= Global Energy Network Equipped with Solar Cells & International Superconductor Grids

The Project involves construction of 50 solar power plants (solar power stations, total power capacity: 0.1 billion kW) in the desert near 40° north latitude (which has ideal sunlight conditions) and connecting Beijing and Moscow with a 10,000km superconductor cable. The project's aim is to build a solar power system on an international scale.

*This concept was presented by the SRG research group, whose members include TOKYU KENSETSU (governing company), SANYO DENKI, TAKENAKA KOMUTEN, TOSHIBA, and MAEDA KENSETSU KOGYO.
Email this page to a friend


Updated: 2016/06/30
If you speak another language fluently and you liked this page, make a contribution by translating it! For additional translations check out FreeTranslation.com (Voor vertaling van Engels tot Nederlands) (For oversettelse fra Engelsk til Norsk)
(Для дополнительных переводов проверяют FreeTranslation.com )