Electrify The Bottom Of The Pyramid
ARUN MAJUMDAR director of the Advanced Research Projects Agency — Energy.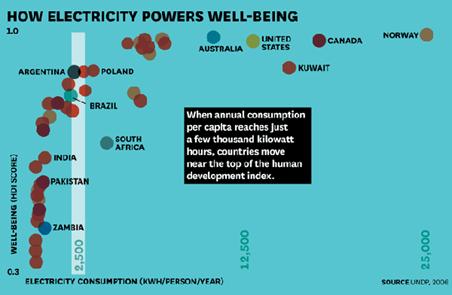 Staggeringly, about 1.5 billion people live without electricity. They are off the grid literally and figuratively, lacking a basic resource so vital to economic development and well-being.
But extending the grid is not always practical — in many cases logistical issues and high costs make it all but impossible. The solution:
Creating local, self-contained, affordable power generation and storage systems that can provide electricity wherever it is needed.
Emerging economies like India, China and Brazil have aggressive rural electrification programmes.
They have discovered, though, that laying thousands of miles of wire or burning expensive diesel fuel to run inefficient generators is not necessarily the best way to bring electricity to remote communities.
Stand-alone power generation systems using local resources — particularly renewable such as solar, wind, biomass and hydroelectric — increasingly look more attractive.
But with renewables, there is a catch. When the sun sets or is hidden by clouds, or when the wind stops blowing, the lights wink out. The solution is storage. Just as cellular technology leapfrogged land lines to bring telecommunications to millions in remote areas, battery-assisted stand-alone systems could leapfrog hard-wired electrification.
Imagine a photovoltaic panel and a high capacity, low-cost battery in every home in every remote village. The United States Department of Energy's Advanced Research Projects Agency is making major investments in next-generation battery research, targeting higher-efficiency batteries at significantly lower costs. Though this research is driven by developed economies' concerns — chief among them, extending the range of electric vehicles — better and cheaper batteries will help open up vast new markets at the bottom of the pyramid.
The challenge is more complicated, of course, than just getting the science of storing power right. There are huge economic and technological hurdles to clear. But who would have imagined 20 years ago that billions of people in developing economies would join the global conversation on their mobile phones?
There is a good chance that, 20 years from now, hundreds of millions living off the grid will depend on local electricity generation with storage to reliably power lights, refrigerators and phones — wirelessly joining the electrified world.
2012 Harvard Business REVIEW (Distributed by The NYT Syndicate)
Email this page to a friend


Updated: 2016/06/30
If you speak another language fluently and you liked this page, make a contribution by translating it! For additional translations check out FreeTranslation.com (Voor vertaling van Engels tot Nederlands) (For oversettelse fra Engelsk til Norsk)
(Для дополнительных переводов проверяют FreeTranslation.com )