Coronado Eagle & Journal - Crown News

Roundtable Hears GENI Founder Peter Meisen Give Solution To Power Shortage
by Larry Wade. August 8 - August 14, 2001
Peter Meisen is a man who gets things done.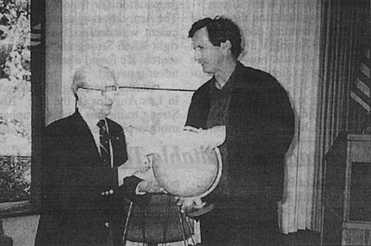 Peter Meisen (Right) pointed out on a globe the 25,000 mile path of the proposed world power grid to Rear Admiral Joseph Rizza at Coronado Roundtable.
In 1983 he founded SHARE the program in San Diego to help distribute food to families who need it. Now SHARE USA serves 240,000 families in 16 U.S. cities.
Peter Meisen talked to Coronado Round Table members July 27 about a new dream to which he is giving full time.
Fifteen years ago Meisen founded the Global Energy Network Institute (GENI) in San Diego. His goal is to establish an electrical energy grid to link all the world's regional power systems.
Meisen, an engineering graduate of the University of California San Diego gives credit for the plan to the late Buckminster Fuller, under whom he studied.
"There should be no electrical power shortage anywhere on the globe," Meisen asserted provocatively. He explained that in two states of the U.S., we could produce more solar power than the whole world needs, and in four states we could generate one-half America's need for electricity with wind power alone.
It is a pressing need. When many in the audience were young, there were 2 billion people living on the face of the planet. Now there are 6 billion. In 20 years there will be 8 billion. We need a way to get to them the power they need, and the Buckminster Fuller plan for a world electrical grid uses present technology, Meisen asserted
Meisen has persuaded some heavy hitters of the wisdom of the plan. Walter Cronkite called it "the most thoughtful strategy for peace through infrastructure" he has heard. Nobel Peace Price Laureate Desmond Tutu has spoken out for the plan, as has Mexican President Vicente Fox and former United Nations Secretary General Boutros-Ghali.
"The opportunities for cooperation and increased international understanding through the establishment of an international power grid would be substantial," said Tutu of South Africa.
Meisen made converts in Coronado, too. Round Table President Rear Admiral Joseph P.Rizza said, "Meisen is the most compelling and well-informed speaker we have heard at the Roundtable in years." Echoing those sentiments, Rear Admiral John H. McQuilkin of the Roundtable board of directors was heard to call the presentation "compelling" and "convincing."
"We have been given power beyond our dreams by mother nature" asserted Peter Meisen, citing the proven possibilities for solar power, wind, hydro, tidal, geothermal and biomass solutions to energy needs. Former US Energy Secretary Bill Richardson has recently invited Meisen to present his GENI plan to three world energy conferences. "We will hear a great deal more about GENI in coming months," Rear Admiral Rizza said at the conclusion of the Roundtable meeting."
Email this page to a friend


Updated: 2016/06/30
If you speak another language fluently and you liked this page, make a contribution by translating it! For additional translations check out FreeTranslation.com (Voor vertaling van Engels tot Nederlands) (For oversettelse fra Engelsk til Norsk)
(Для дополнительных переводов проверяют FreeTranslation.com )