Tuesday, February 8, 2005
Last modified Saturday, February 5, 2005 12:07 AM PST
Waves power future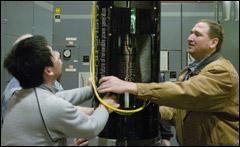 Ryan Gardner/Gazette-Times
The working permanent magnet linear generator model, being moved by Xiaolin Zhou, left, and Ken Rhinefrank weighs about 100 pounds. The actual generator will be able to power about 200 costal homes.
By Mary Ann Albright
Gazette-Times reporter
OSU stakes claim to wave energy research center

Oregon State University made headway this week in its campaign to host a national wave energy research center after meeting with electrical power experts and the state Department of Energy in Portland.
"It went very well," said Annette von Jouanne, OSU electrical engineering professor and co-principal investigator for the university's wave energy program. "We have a great deal of support for pursuing wave energy as the next big source of clean, renewable energy."

Engineers are still developing technology to harness ocean waves as an energy source. OSU researchers lead the country in this field, which von Jouanne sees as the future of economically and environmentally smart electrical power.

Von Jouanne and Alan Wallace, her co-principal investigator and fellow engineering professor, want to see a U.S. ocean energy research and demonstration center built, and they think Oregon is the best place for it.

OSU already boasts the nation's leading energy systems laboratory, a wave research laboratory with the world's largest tsunami basin and a state-of-the-art motor systems research facility. OSU argues that these resources, along with its excellent wave energy program and proximity to the Oregon coast, make it the ideal site for the proposed ocean energy facility's research hub.

As for the demonstration site, experts say Reedsport, a two-and-half hour drive from OSU on the southern Oregon coast, is optimal. The ocean near Reedsport combines good wave action with a suitable sea floor, and proponents say the community could support a center fairly easily.

"Our focus at OSU has been to try to find the optimal design for wave energy exchange," von Jouanne said.

To that end, von Jouanne, Wallace and about 15 OSU students are designing and testing three prototypes for capitalizing on the ocean's energy potential.

They have one model completed so far — a permanent magnet linear generator. This design consists of a magnetic shaft anchored to the sea floor and a floating buoy with windings (electrical conductors). When the ocean's waves cause the buoy to move up and down, the windings interact with the shaft's magnetic field to induce voltages and generate electricity.

Wallace said this model performed well but that the team will create and test the other two in the wave lab during the course of the remaining school year before deciding which design to create full-scale and, team members hope, demonstrate at Reedsport.

Von Jouanne and Wallace conceptualized this project eight years ago. Two years ago, they received their first funding from the National Science Foundation and began designing models.

Like wind energy in its early experimental days, wave energy will initially be very expensive to create.

"Today's cost is high, but if you run these things for a long period of time, the cost per energy unit goes down," Wallace explained. He added that wind energy, which was developed about 20 years ago, is now affordable and price-competitive with most other energy sources.

Wallace and von Jouanne are seeking grants to make their national ocean energy center goal happen. Wallace estimates that establishing the demonstration facility will cost somewhere in the ballpark of $5 million.

Though still in its infancy, wave energy holds huge potential. According to Wallace, scientists estimate that 0.2 percent of the ocean's energy could power the world. Coastal communities stand to benefit most from this energy source.

As far as they know, Wallace and von Jouanne are the only engineers in the United States creating wave energy devices. The U.S. Navy has some research efforts going on in this area, but Wallace said that any findings naval researchers may have are currently classified and not commercially available. Several European countries have experimental wave energy models, and Scotland already has a device that produces useful energy.

Wallace said opponents to wave energy allege that the buoys will damage the coastline aesthetically.

"To that, we say that these things will be at least a mile or two offshore," he said. "You'll need a good pair of binoculars to see them."

Buoys vary in size, depending upon how much energy they produce. Von Jouanne said a scaled-up version of the OSU prototype might be 12 feet in diameter and 12 feet tall. Such a device would generate approximately 250 kilowatts of electricity, which could power about 200 homes.

In addition to making OSU the epicenter of wave energy research, the national wave center would attract some of the best engineering students.

"Renewable energy is a big topic with students because they feel like they can make a difference," von Jouanne said. "We've already had students from all over the country asking to participate in this project. Right now we have more students who want in than we can support. If the center opens, more students can get involved.
---
Copyright © 2005 Corvallis Gazette-Times
Email this page to a friend


Updated: 2016/06/30
If you speak another language fluently and you liked this page, make a contribution by translating it! For additional translations check out FreeTranslation.com (Voor vertaling van Engels tot Nederlands) (For oversettelse fra Engelsk til Norsk)
(Для дополнительных переводов проверяют FreeTranslation.com )