The APG: Safe, Inexpensive, Eco-friendly Transportation of Power
The Verbund Austrian Power Grid (Verbund APG) is a subsidiary of the Oesterreichische Elektrizitaetswirtschafts-AG (Verbund), Austria's biggest electric supply company.
The goal of the Verbund Austrian Power Grid is to guarantee the safe, inexpensive and eco-friendly transportation of electricity. Therefore, we focus on man in the center of technology. Even state-of-the-art technology does not work without the committed work performed by our staff members around the clock. Linemen, control room engineers, operating engineers, switchboard plant engineers, and businessmen form a well-coordinated team for optimal management, maintenance and professional solution of any problems arising in connection with the high-voltage and supergrid.
The Verbund Austrian Power Grid, headquartered in Vienna, is responsible for planning, constructing, operating and maintaining the Verbund group's high-voltage and supergrid system. The grid is divided into four groups (North – Ernsthofen Substation, East – Vienna Southeast Substation, South –Obersielach Substation, and West – Tauern Substation).
The entire high-voltage and supergrid system managed by the Verbund APG comprises 3,300 km of lines with 6,500 km of line systems and 46 substations with the voltage levels 380, 220 and 110 kilovolt.
The APG disposes of total assets amounting to approx. EUR 874m and its turnover amounts to approx. EUR 293.5m.
Click here to download the Annual Report 2001.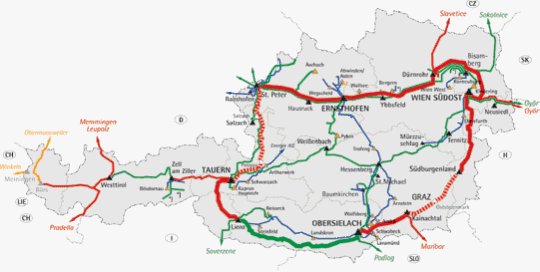 APG grid