Library >> Renewable Energy Resource Maps >> Latin America >> Hydropower
Hydroenergy Potential in LATIN AMERICA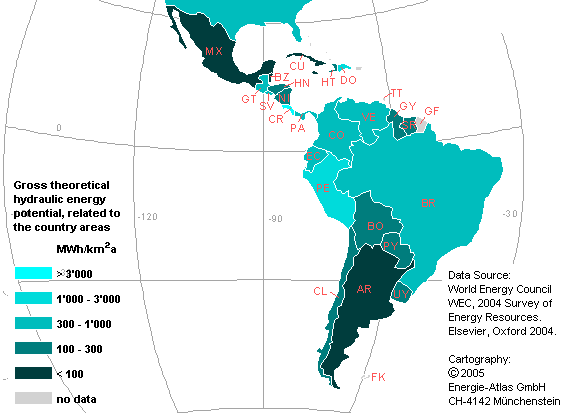 If precipitations falls on high ground, they exhibit so-called potential energy: On their way down through the valleys to the sea, the water can do work. - Therefore, mountainous countries with sufficient rainfall are particularly suitable for making use of hydropower.

The map shows the theoretical energy potential in relation to the country area, in MWh/km²a.

The values are based on the Survey of Energy Resources 2004, published by the World Energy Council WEC. They have been used with permission of the editor Elsevier, Oxford.
http://www.energie-atlas.ch/wa-100.htm

---
Countries
Antigua and Barbuda | Argentina | Bahamas | Barbados | Belize | Brazil | Bolivia | Chile | Colombia | Costa Rica | Cuba | Dominica | Dominican Republic | Ecuador | El Salvador | French Guayana | Grenada | Guatemala | Guyana | Haiti | Honduras | Jamaica | Mexico | Nicaragua | Panama | Paraguay | Peru | Saint Kitts and Nevis | Saint Lucia | Saint Vincent and the Grenadines | Suriname | Trinidad Tobago | Uruguay | Venezuela
---
Related GENI Resources
Links
Email this page to a friend


Updated: 2016/06/30
If you speak another language fluently and you liked this page, make a contribution by translating it! For additional translations check out FreeTranslation.com (Voor vertaling van Engels tot Nederlands) (For oversettelse fra Engelsk til Norsk)
(Для дополнительных переводов проверяют FreeTranslation.com )