History Contradicts the U.S.'s 'All of the Above' Energy Strategy
Oct 24, 2013 - Eric Roston - bloomberg.com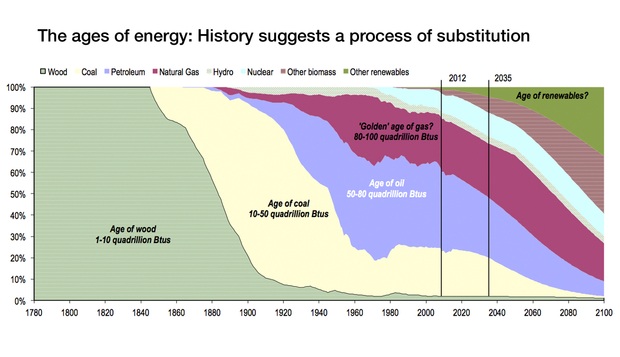 Source: Citi Research
I hope you're sitting down. Republicans and Democrats agree on something, at least nominally. It's called an "all of the above" energy policy. That phrase occurs in both White House policy pronouncements and the 2012 Republican platform, meaning basically that the U.S. should pursue all of the energy options favored by whoever's in power. The parties differ on details, but, you know, "details."

Bipartisan agreement is a rare thing, and yet it's still not nearly as rare as the notion of having multiple energy choices in the first place. For 200 years the world burned wood, then coal, then oil. Now toss in gas, nuclear, hydropower and renewable power generated from wind, sun, water and earth. Judging by the projections of Citi Research, above, these options will be with us for some time.
The problem is, while we're basking in glee over all our options, we're overlooking the fact that proponents of each of these power sources are trying to pound each other out of business. Historically, only one dominant energy source emerges as its predecessor falls off a cliff. "We believe it would be naive to ignore the waterfall progression that history suggests is likely," Citi's researchers say in an overview of the global energy market released this month, Energy Darwinism: The Evolution of the Energy Industry.
As a case study, researchers flag Germany, where the 30 gigawatts of solar power built since 2007 have up-ended the country's power mix. Solar generates its peak power when the Sun is highest, particularly in summer; no surprise there. Those hours coincide with peak electricity demand from the grid, when the price is highest. The peak demand now goes to solar production, leaving traditional generators with a lot of capacity they're not using, and a lot of money they're not making.
Americans glomming onto new power options is creating problems for U.S. utilities as well, as Bloomberg News has explored recently.
The availability of both solar power and smaller natural gas generators are challenging the utilities' monopoly by letting companies, universities and communities own smaller, nimbler electricity distribution networks. "Microgrids may be the mechanism through which this revolution in clean distributed generation will be carried out — a portal for leaving the traditional power grid," Bloomberg's Ken Wells and Mark Chediak wrote this week.
Large capital investments in power are more sensitive to small, incremental changes to the energy mix, according to Citi. With trillions of dollars flowing into projects in the next 20 years, according to the International Energy Agency, investors might see hundreds of billions of dollars in long-term investment put at the whim of quickly evolving consumer energy choices. Investment decisions made today might start to seem dated sooner than many people think given the speed of change in the sector. Solar is only going to improve and conventional fuels are only going to be harder to find, the report notes.
"All of the above" is a privileged policy to have. For investors, it warrants observation and judgment of how so many players will affect each other's business in the long-term. Just because Republicans and Democrats say they don't like "to pick winners and losers" doesn't mean they shouldn't prepare for the emergence of both.
Visit www.bloomberg.com/sustainability for the latest from Bloomberg News about energy, natural resources and global business.

Email this page to a friend


Updated: 2016/06/30
If you speak another language fluently and you liked this page, make a contribution by translating it! For additional translations check out FreeTranslation.com (Voor vertaling van Engels tot Nederlands) (For oversettelse fra Engelsk til Norsk)
(Для дополнительных переводов проверяют FreeTranslation.com )