Pike Research: LEDs to gobble half the $4.4B commercial lighting market by 2020
May 12, 2010 - Camille Ricketts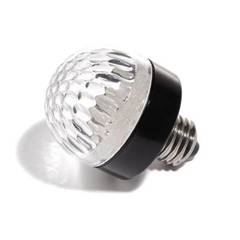 Light-emitting diodes got a rousing promotion today from cleantech analysts at Pike Research, who just released a report predicting that LEDs will account for almost half of the $4.4 billion commercial lighting business within the next decade.
The report, titled "Energy Efficient Lighting for Commercial Markets," enumerates the advantages of light-emitting diodes, particularly their high energy efficiency, which allows them to pay for themselves over time. Right now, the biggest hurdle to their adoption is their high cost. General Electric, Philips and Panasonic are all working on their own LED bulbs, but each has yet to bring the cost under $40 per bulb — way more than even commercial buyers are accustomed to paying.
But Pike notes how much price tags on commercial LED systems have come down in recent years, extrapolating that they will fall even further to become fairly competitive with incandescent and fluorescent options. On top of price drops, more government incentives are being made available to accelerate the growth of the commercial market.
LEDs are likely to find a home faster with commercial customers than homeowners. Businesses keep closer tabs on how much they are investing in technology and how much money they are saving on various investments, like high-efficiency data centers, as well as LED general lighting. Residential consumers are much more easily turned off by large upfront costs.
The report also predicts a spike in outdoor LED usage. Municipalities have become major customers, using them in their streetlights and on the exterior of government-owned buildings. Pike believes this market will continue to grow, as early adopters have seen steep decreases in annual operation costs.
Email this page to a friend


Updated: 2016/06/30
If you speak another language fluently and you liked this page, make a contribution by translating it! For additional translations check out FreeTranslation.com (Voor vertaling van Engels tot Nederlands) (For oversettelse fra Engelsk til Norsk)
(Для дополнительных переводов проверяют FreeTranslation.com )