"Renewable Energy in America: Phase II Market Forecasts and Policy Requirements"
A National Policy Conference Hosted by
American Council On Renewable Energy (ACORE)
In conjunction with
The Renewable Energy Caucuses of the US Senate and US House of Representatives Cannon Caucus Room, Cannon House Office Building, Washington, DC
November 29-30, 2006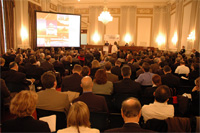 Phase II Support
The 2006 Phase II forum concluded successfully on November 30th.
Bush Administration Supports ACORE's Call for Renewable Energy Policy; Secretaries of Agriculture and Interior Speak for Phase II Plan
"USDA has moved to Phase II, building on many of the technologies that have come out of Phase I."
-- The Honorable Mike Johanns, Secretary of Agriculture
"We are pleased to join ACORE in a discussion of how we can work together to meet the objectives of the recently passed Energy Policy Act to diversify and add to our nation's energy supply by producing clean, affordable renewable energy"
-- The Honorable Gale Norton, Former Secretary of the Interior
"ACORE's Phase II can help us take what we've learned over the past thirty years about the potential of renewable energy and put it into practice in the 21st century."
-- Representative Mark Udall (D-CO)
"We are here today at ACORE's Phase II forum to identify ways that we can increase our use of renewable energy sources across the nation, and reduce our dependence on foreign oil."
-- The Honorable Jim Doyle, Governor of Wisconsin
http://www.acore.org/
Copyright © 2006 American Council On Renewable Energy
---

Email this page to a friend


Updated: 2016/06/30
If you speak another language fluently and you liked this page, make a contribution by translating it! For additional translations check out FreeTranslation.com (Voor vertaling van Engels tot Nederlands) (For oversettelse fra Engelsk til Norsk)
(Для дополнительных переводов проверяют FreeTranslation.com )