Environmental champion Hermann Scheer dies
Oct 20, 2010 - Renewable Energy Focus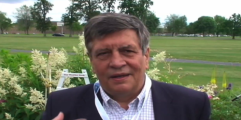 One of Germany's most outspoken environmental politicians has died, at the age of 66. Hermann Scheer, a Social Democratic member of the German parliament, was a leading campaigner for renewable energy, in particular solar power.
Hermann Scheer was known internationally for his pro-environmental politics. He was a long-term supporter of renewable energy, and wrote many books and articles outlying his ideas.
He was named by TIME magazine as 'Hero for the Green Century', and was a recipient of the Alternative Nobel prize.
In 1988, he founded the European Association for Renewable Energy (Eurosolar), and served as its president. In 2001 he created the non-profit World Council for Renewable Energy (WCRE), and served as its general chairman.
Scheer was also a driving force behind the creation last year of the International Renewable Energy Agency (IRENA), an intergovernmental organisation for promoting the adoption of renewable energy worldwide.
Supporting renewable energy earned Scheer many international awards over the years, including the alternative Nobel prize, the Right Livelihood Award, in 1999.
Member of the German Bundestag, President of Eurosolar and Laureate of the Right Livelihood Award, Jakob von Uexküll, Founder of the World Future Council, paid tribute to Herman Scheer:
"He has been the world's most powerful advocate for renewable energy during the last two decades. We are shocked and deeply saddened about the loss of our Founding Councillor, colleague and friend. Hermann Scheer has been essential in determining the World Future Council's work on spreading Renewable Energy policies and showing that 100 per cent renewable energy is possible in the near future. His farsighted vision of a global renewable energy economy, his personal commitment and his incomparable campaigning spirit will continue to encourage many policy-makers, experts and citizens around the world to fight for a world without fossil fuel or nuclear. Our thoughts are with his family at this difficult time."
Obituary: Herman Scheer, 29 April 1944 — 14 October 2010.
---

Email this page to a friend


Updated: 2016/06/30
If you speak another language fluently and you liked this page, make a contribution by translating it! For additional translations check out FreeTranslation.com (Voor vertaling van Engels tot Nederlands) (For oversettelse fra Engelsk til Norsk)
(Для дополнительных переводов проверяют FreeTranslation.com )