Tunisia still in running for Desertec role despite turmoil
May 21, 2011 - globserver.com
Artist's impression of the Desertec project in North Africa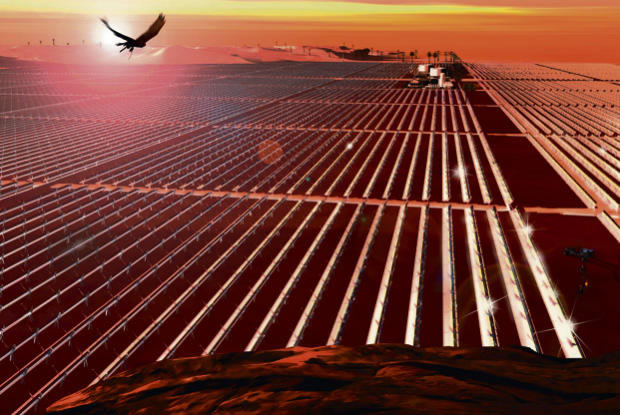 Tunisia remains a leading candidate to host one of the first renewables projects built by the Desertec Industrial Initiative (DII), despite the North African country's recent revolution.
DII chief executive Paul van Son recently met with four senior figures in Tunisia's interim government, and the consortium – whose founding members include Siemens, E.ON , RWE and ABB – says it intends to open a Tunisian office shortly.
Before the "Jasmine Revolution", which led to Tunisian President Zine El Abidine Ben Ali fleeing to Saudi Arabia in January after nearly 25 years in power, DII had partnered with Tunisia's state-owned energy utility to map the country's wind and solar resources.
Despite the recent upheaval, DII says the study has been expanded to "review the financing of a possible reference project in Tunisia".
"Recent activities in Japan and North Africa have shown that strong ties between Europe and North Africa are more necessary than ever in order to achieve security and stability," van Son says.
"We are going to actively involve the main European political and industry players in order to expedite the joint development of an economical and long lasting energy generation in the desert regions."
DII's vision to supply 15% of Europe's electricity from a series of North Africa renewables installations in the coming decades has come under heightened scrutiny since the start of the "Arab Spring" in Tunisia in December.
The protests quickly spread to Egypt, Algeria, Libya and Morocco in North Africa, as well as a raft of Middle Eastern countries. No consensus has yet emerged among industry observers as to whether the events will ultimately prove a boon or setback to renewables development in North Africa.
DII insists that the case for renewables in North Africa – both as a way of supplying energy-starved local populations and as a valuable export to Europe – remains untarnished, and that its perspective is "independent of the prevailing political conditions".
However, DII acknowledges that its first reference project – likely to be a solar-thermal plant in Morocco – may be delayed.
---

Email this page to a friend


Updated: 2016/06/30
If you speak another language fluently and you liked this page, make a contribution by translating it! For additional translations check out FreeTranslation.com (Voor vertaling van Engels tot Nederlands) (For oversettelse fra Engelsk til Norsk)
(Для дополнительных переводов проверяют FreeTranslation.com )