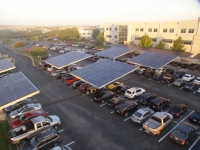 The initiatives in the UAE and Spain will be carried out with the help from its new partner, Aconfort.
Shaded parking array designed and developer, Envision Solar International, has announced that through a new partnership with Aconfort, it will be developing new business initiatives through the United Arab Emirates, Qatar and Spain. Aconfort is a member of Al Habtoor Enterprises and is based in the UAE and Spain.
Aquilino Ornia, president and CEO of Aconfort, commented, "It is a tremendous opportunity to partner with Envision Solar to expand the Solar Shaded Parking market in the UAE, Qatar and Spain. In the Middle East, the sun shines almost 365 days a year - we must take advantage of this opportunity to capture so much free energy and to also generate clean electricity that will help protect the environment. We selected Envision's Solar Tree arrays because they are the best and will be most appealing to the markets where we operate. Simple solar parking canopies will not capture the imagination of our clients but they will be very excited by these beautiful solar tracking machines. There is a huge desire to increase solar energy production and to provide Electric Vehicle charging stations to these markets that are undergoing expansive and rapid growth. We have a great road ahead and lots of work to do to ensure that clean energy is our future."