Japan publishes strategic energy road map
Jul 3, 2012 - Nilima Choudhury - pv-tech.org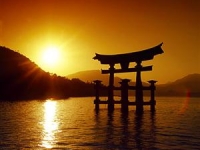 If policies are sufficiently promoted, Japan may have a framework setting it apart from the rest of the world to help solve the problem of global warming.
Japan has published its latest strategic energy plan, originally formulated in 2003 and reviewed every three years by conference bodies as well as various opinion polls. The latest revision includes a road map of energy-based economic growth and reformation of the energy infrastructure. The strategy is to ensure growth and encourage multi-faceted international trade by taking into account the social cost and price differences between nuclear, thermal and renewable energy generation.
However, the country recently become embroiled in a trade dispute with Canada over its contentious domestic content requirements. On the other hand, this could however cement relations with the EU as it also joined the fracas later in the year.
Furthermore, in May, following talks between Japanese Prime Minister Yoshihiko Noda and US President Barack Obama, plans were discussed to strengthen mutual cooperation on energy issues.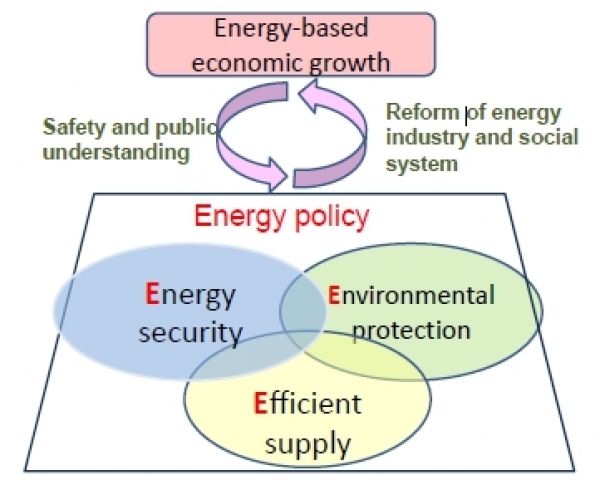 Japan's revised Strategic Energy Plan is consistent with its "New Growth Strategy".
The government of the Land of the Rising Sun will also be expanding its feed-in tariff systems for renewables as well as increasing support for R & D projects and local revitalization.
Japan's choice of energy generation has been influenced not only by the ¥ 17 trillion spent in 2010 on importing electricity, but also the earthquake and nuclear disasters of spring last year. However, although Fukishima affected energy choices in other countries as well, Japan will be commissioning nine nuclear plants (14 by 2030) and new fossil fuel plants, to be installed by the beginning of 2020.
Curiously, only last month Japan had shut down operations at its last nuclear plant, leaving Japan without energy from atomic power for the first time for more than 40 years. Nonetheless, on June 16, the Japanese government approved plans to restart units 3 and 4 of the Ohi nuclear power station (NPS), western Japan, overseen by Kansai Electric Power Co. At the earliest, unit 3 will start power generation this week and reach full power next week and unit 4 will start power generation on July 20 and reach full power on July 24.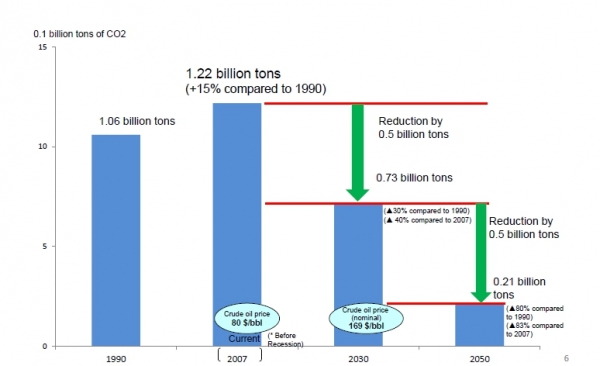 Long-term CO2 emission reduction path.
The plan is to raise the energy independence ratio to 70% (self-sufficiency energy plus self-developed energy supply, divided by total primary energy sources).
But if this further increases consumer electricity household bills, as figures from METI demonstrated last week, there is a possibility public pressure may force the government's hand to concede to cuts as has happened in Europe this year.
If policies are sufficiently promoted, Japan's energy target to reduce domestic energy CO2 emissions by 2030 has put in place a framework which could set it apart from the rest of the world to help solve the problem of global warming.
---

Email this page to a friend


Updated: 2016/06/30
If you speak another language fluently and you liked this page, make a contribution by translating it! For additional translations check out FreeTranslation.com (Voor vertaling van Engels tot Nederlands) (For oversettelse fra Engelsk til Norsk)
(Для дополнительных переводов проверяют FreeTranslation.com )