SunEdison sells 98MW of European PV projects
Jul 9, 2012 - Anne Zimmermann - pv-tech.org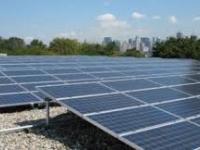 SunEdison has closed transactions on projects in Italy and Bulgaria. Image: SunEdison
SunEdison has sold a total of 98MW of European PV projects, the company has announced, closing three transactions last week. The projects include a 60MW PV plant in Karadzhalovo, Bulgaria, which was sold to a consortium of investors including the First Reserve Energy Infrastructure Fund, Saudi Arabian developer ACWA Power and Turkish private equity firm Crescent Capital. The plant was connected to the grid in March 2012 and had been funded by an IFC €155 million debt financing agreement. ACWA subsidiary NOMAC and SunEdison will operate and maintain the plant under a joint vernture agreement.

The other two projects are a 13MW and a 25MW PV plant in Italy. The 13MW project has been acquired by Exois and is made up of three PV plants in the Campania region. All three plants were connected to the grid in 2011. SunEdison also closed on financing two of those projects through a €24.9 million long term loan with Centrobanca (UBI Banca Group) in collaboration with Exois. This facility was partly guaranteed by SACE, the insurance and financial group owned by the Italian Ministry of Economy and Finance, which supports the development of domestic infrastructures and renewable energy sources. The financing agreement included an additional €1.7 million VAT facility. There is currently dissention within the ranks while the government attempts to decide when it will implement cuts to its feed-in tariff. The company will maintain, operate and monitor the PV plants under a long-term agreement. SunEdison further sold a 25MW plant in Puglia, Italy, to an institutional investor. The plant has been in operation since Q4 '11.

Carlos Domenech, president of SunEdison, commented: "These transactions are a perfect example of SunEdison's continued ability to structure and execute complex transactions, while aligning world class investors who recognize the growing role solar plays in fulfilling today's energy needs worldwide."
---

Email this page to a friend


Updated: 2016/06/30
If you speak another language fluently and you liked this page, make a contribution by translating it! For additional translations check out FreeTranslation.com (Voor vertaling van Engels tot Nederlands) (For oversettelse fra Engelsk til Norsk)
(Для дополнительных переводов проверяют FreeTranslation.com )