Selling Solar Panels on the Installment Plan in Africa
May 30, 2013 - By Nick Leiber - Businessweek.com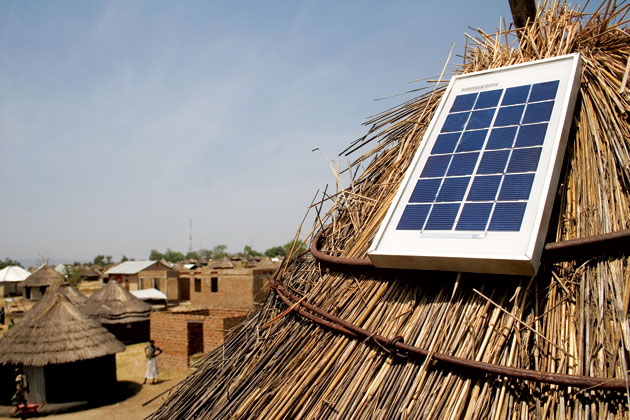 An estimated 1.2 billion people worldwide live without electricity. Many depend on kerosene lamps to light their homes—a fuel that has ill effects on health and is costly. Solar power might seem the better alternative in sunny parts of the world, except the poor can't afford the upfront cost of the equipment, which starts at around $50 for a modest rooftop system. "Even though photovoltaics have become much more affordable over the past 10 years, it's still too expensive to be competitive with other sources of energy," says Paul Polak, a social entrepreneur who has spent the last 25 years creating affordable tools used by millions of poor farmers and is now working on a solar water pump.
Some solar startups are addressing the problem with creative financing models. The goal is to help low-income families meet the cost of installing solar systems by letting customers pay for them in installments. The ventures, which include Angaza Design and Powerhive, both headquartered in California, as well as SunTransfer in Germany, aren't philanthropic. They're trying to lure away business from kerosene suppliers. "People who are buying kerosene today have money," says Wolfgang Gregor, secretary general of the Global Off-Grid Lighting Association, a lobbying group in Paris founded last year. "We want to take a bit of the money and offer them better light, more light, and, of course, cheaper light. The losers will be the big oil companies that sell kerosene."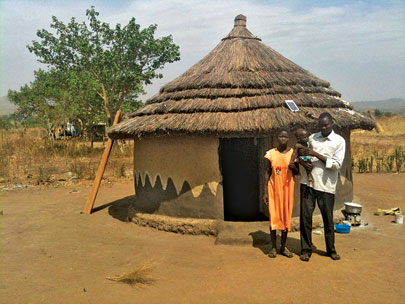 In Africa, where a larger share of the population has mobile phones than electricity, Azuri Technologies is getting traction with a pay-as-you-go model similar to the one pioneered by cellular operators. Spun off from solar manufacturer Eight19 in 2012, the 15-person Cambridge (U.K.) business has more than 20,000 systems installed or in its distribution pipeline in Kenya, Zambia, Malawi, South Sudan, Uganda, Zimbabwe, South Africa, Ethiopia, and Sierra Leone.
Azuri's customers are charged a one-time installation fee of some $10 for a solar panel that attaches to a roof and powers two LED lights. The kit also includes a device for charging phones. Users pay about $1.50 a week, less than half of what kerosene would cost, to light their homes for 8 hours a day, according to Azuri Chief Executive Officer Simon Bransfield-Garth. It takes about 18 months to pay for the unit. "The key thing is that we're able to price the solar power for less money than people currently spend on kerosene," says Bransfield-Garth. "We found, on average, [Azuri's] customers would extend their productive day by just over three hours."
In February, Azuri secured a £1 million ($1.5 million) four-year loan from Barclays (BCS) to finance expansion. "I think where Azuri is a terrific proposition is the way it enables an affordable [service] for their client base in terms of really a minimal upfront cost," says Oliver Bailey, a relationship director at the bank in London. There are also economic payoffs in countries with underdeveloped power networks. "You can't wait for the grid to be extended; there's an immediate need now that really should be addressed," says Gregory Keoleian, director for the Center for Sustainable Systems at the University of Michigan. "These off-grid systems can really contribute to economic development for these rural populations."
Solar pioneer Danny Kennedy, the co-founder of Sungevity, whose leasing plans have put solar power within the reach of thousands of middle-class households in the U.S., has nurtured solar startups, including Mosaic and Powerhive, at an accelerator at his Oakland (Calif.) headquarters. "The evidence is in that once you create the model for easy, affordable monthly payments, which in most cases pencil out at less than what these poor people are paying for kerosene, the adoption rates are terrific," he says. "Pay-as-you-go, whatever the finance structure behind it, will result in the rapid electrification of much of the world that doesn't currently benefit from it."
---

Email this page to a friend


Updated: 2003/07/28