SA solar research eclipses rest of the world
February 11, 2006 - Willem Steenkamp - Saturday Argus

In a scientific breakthrough that has stunned the world, a team of South African scientists has developed a revolutionary new, highly efficient solar power technology that will enable homes to obtain all their electricity from the sun.

This means high electricity bills and frequent power failures could soon be a thing of the past.

The unique South African-developed solar panels will make it possible for houses to become completely self-sufficient for energy supplies.

The panels are able to generate enough energy to run stoves, geysers, lights, TVs, fridges, computers - in short all the mod-cons of the modern house.



Nothing else comes close to the effectiveness of the SA invention

The new technology should be available in South Africa within a year and through a special converter, energy can be fed directly into the wiring of existing houses. New powerful storage units will allow energy storage to meet demands even in winter. The panels are so efficient they can operate through a Cape Town winter. while direct sunlight is ideal for high-energy generation, other daytime light also generates energy via the panels.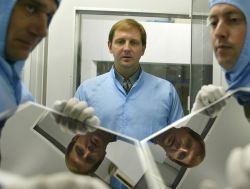 Power to the people: Professor Vivian Alberts and his team have achieved a solar scientific breakthrough after 10 years of research. Photo: Anton Hammerl, Saturday Argus


A team of scientists led by University of Johannesburg (formerly Rand Afrikaans University) scientist Professor Vivian Alberts achieved the breakthrough after 10 years of research. The South African technology has now been patented across the world.

One of the world leaders in solar energy, German company IFE Solar Systems, has invested more than R500-million in the South African invention and is set to manufacture 500 000 of the panels before the end of the year at a new plant in Germany.

Production will start next month and the factory will run 24 hours a day, producing more than 1 000 panels a day to meet expected demand.

Another large German solar company is negotiating with the South African inventors for rights to the technology, while a South African consortium of businesses are keen to build local factories.

The new, highly efficient and cheap alloy solar panel is much more efficient than the costly old silicone solar panels.

International experts have admitted that nothing else comes close to the effectiveness of the South African invention.

The South African solar panels consist of a thin layer of a unique metal alloy that converts light into energy. The photo-responsive alloy can operate on virtually all flexible surfaces, which means it could in future find a host of other applications.

Alberts said the new panels are approximately five microns thick (a human hair is 20 microns thick) while the older silicon panels are 350 microns thick. the cost of the South African technology is a fraction of the less effective silicone solar panels.

Alberts said in Switzerland it was already compulsory for all new houses to include solar technology to lessen energy demands on national grids.

"And that was the older, less effective technology. With our hours of sunlight, we will on average generate twice as much energy than, for instance, European countries."

While South African scientists developed and patented the new, super-effective alloy solar panels, other companies have developed new, super-efficient storage batteries and special converters to change the energy into the power source of a particular country (220 volts in South Africa).

Eskom spokesperson Carin de Villiers said any new power supply that lessened the load on Eskom was to be welcomed.

She said Eskom was also doing its own research on solar energy.

"In fact, we are currently investigating building what will probably be the largest solar power plant, in the Northern Cape - a 100-megawatt facility."

She added that Eskom was also researching wind and fuel-cell technology as alternative energy sources.


This article was originally published on page 1 of Saturday Argus on February 11, 2006

---

Email this page to a friend


Updated: 2016/06/30
If you speak another language fluently and you liked this page, make a contribution by translating it! For additional translations check out FreeTranslation.com (Voor vertaling van Engels tot Nederlands) (For oversettelse fra Engelsk til Norsk)
(Для дополнительных переводов проверяют FreeTranslation.com )