Global PV deployment set to surge by 2018 as profitability returns: Solarbuzz
Mar 21, 2013 - Ben Willis - PV-tech.org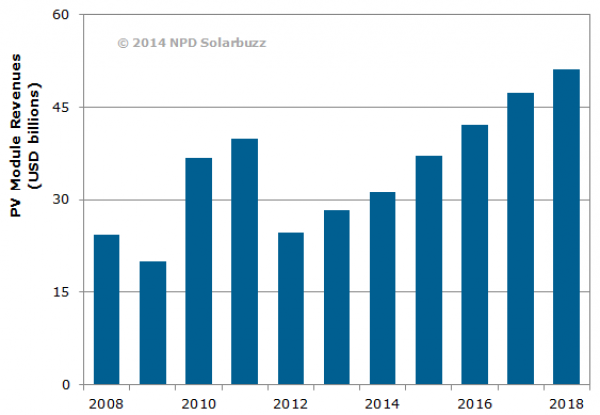 Solarbuzz predicts module revenues will top US$50 billion by2018. Image: NPD Solarbuzz.
Falling module prices and system costs will help propel global PV deployment to 500GW by 2018 as the industry returns to profitability, new analysis suggests.
According to market research firm NPD Solarbuzz, the steady growth in PV end-market demand in 2012 and 2013 will gather pace over the next five years, with annual deployment expected to reach 100GW by 2018.
Over the same period, Solarbuzz also predicts a correction in the trend that saw module revenues dip over the past two years, with revenues forecast to reach US$50 billion a year by 2018.
Michael Barker, senior analyst at NPD Solarbuzz, said: "Solar PV module prices declined faster than the end-market grew in 2012, leading to a dramatic decline in revenues.
"This imbalance was corrected during 2013. Over the next five years, end-market growth will exceed forecasted price declines, resulting in a strong rebound in module revenues."
Solarbuzz predicts module average selling prices to decline "moderately" over the next five years, reaching US$0.51 per Watt by 2018. Cost reductions in balance-of-system costs and improvements in economies of scale by developers will also drive down overall PV system prices over the same period.
"Solar PV suppliers are benefiting from a less volatile pricing environment, compared to previous years," said Finlay Colville, vice-president of NPD Solarbuzz. "The industry will soon transition to a phase of profitable growth, with solar PV competing directly with traditional forms of energy."
---

Email this page to a friend


Updated: 2003/07/28