G20 Hangzhou Summit: Energy Infrastructure Connectivity
Reporter: Xia Ruixue 丨 CCTV.com     09-03-2016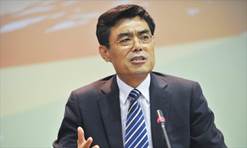 Improving the inter-connectivity of electricity grids is one of the major topics at this year's G20 summit. CCTV reporter Xia Ruixue interviewed Shu Yinbiao, Chairman of the State Grid Corporation of China and   co-chair of the summit's infrastructure taskforce. The company has accelerated its power transmission to countries along the Belt and Road Initiative by using ultra-high voltage lines.

"During the 70th UN Development Summit last year, President Xi Jinping coined the term 'Global Energy Internet' and pushed for the use of clean energy to meet people's electricity needs. This will help realize global electricity inter-connectivity. Our ultra-high voltage transmission technology is mature and world-recognized. We are now studying the feasibility of pilot programs for power transmission in Russia, Mongolia, Pakistan, and other countries. We hope they will start as soon as possible," said Shu Yinbiao.

State Grid helps cross-border electric transmission
Xia: The theme of this year's G20 Leaders' Summit is building an innovative, invigorated, interconnected, and inclusive world economy. As the largest state-owned electric utility company in the world, State Grid is using technology to achieve a clean energy supply, I'm sure. Could you please tell us more about it?

Innovation is essential to the energy transition. China has seen rapid development of clean energy recently. We are now working extra hard to build a massive clean energy storage system and smart grid. Also included in our research is how to solve compatibility issues between consumers and clean energy. So we are looking for breakthroughs in many important areas. Wind and solar power are usually considered unfriendly to the electricity grid. But we are working on including them in the grid to increase the electricity supply," said Shu Yinbiao. Chairman, State Grid Corporation of China

Shu: Technological innovation for clean energy under way
Xia: The State Grid Corp. is one of the co-chairs of the infrastructure taskforce in this year's G20 summit. What's your expectation of this year's summit?

"Infrastructure inter-connectivity has attracted great attention and interest at this year's summit. People believe it will be key to revitalizing economic growth now and in the future. They are also paying attention to the Belt and Road initiative. The summit does inspire the global business community, because many enterprises are facing difficulties and challenges. So at the G20 Summit, we will listen to ideas and thoughts. It's a good opportunity for us, the world largest state-owned electric utility company," said Shu Yinbiao.
http://english.cctv.com/2016/09/03/VIDE3cxMJQ5UeEihdRb4g5RE160903.shtml
---

Email this page to a friend


Updated: 2016/09/29
If you speak another language fluently and you liked this page, make a contribution by translating it! For additional translations check out FreeTranslation.com (Voor vertaling van Engels tot Nederlands) (For oversettelse fra Engelsk til Norsk)
(Для дополнительных переводов проверяют FreeTranslation.com )