HVDC Transmission & India-Sri Lanka Power Link
Apr 7, 2010 - Sachintha Kariyawasam - eesoc.org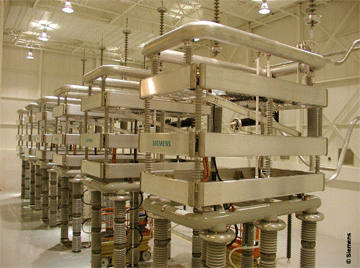 Although seldom found at present, power transmission was carried out using DC in its early years. But during the course of the past century, along with some advances in technology it was found out that AC transmission is more feasible. Hence currently bulk of the electrical power transmission is done using AC. Even so, DC transmission has numerous advantageous in comparison with AC transmission, which makes it exceedingly useful in some scenarios. Supplying a prime example, a High Voltage Direct Current (HVDC) submarine power cable is to be laid in near future, connecting India and Sri Lanka.
Advantages of DC transmission in comparison with AC transmission:
More power can be transmitted for a given insulation level.
Interconnection between systems of different frequencies is possible.
Compensations are not required for DC lines where as AC lines require series/shunt compensations to sustain maximum power transmission capability.
Long distance under ground/water transmission is only feasible with DC.
With DC transmission, earth return operation is possible because of the low earth impedance to dc.
As there is no skin effect, the conductor cross section is better utilized.
At the same time DC transmission has few disadvantages coming with it such as harmonic generation, requirement of expensive converters, converter transformers and filters and high reactive power requirement.
Initial steps have been taken to lay down an undersea HVDC power line connecting India and Sri Lanka. This is a 400 KV line transferring 500 MW of power initially and 1000 MW subsequently. Madurai in Tamil Nadu and Anuradhapura in Sri Lanka's North Central Province are expected to be connected by the proposed power line.
The plans have been made that a 400 KV HVDC overhead lines run from Madurai to the Indian coast, near Rameshwaram (139 km), a 400 KV HVDC cable runs from the Indian sea coast to the Sri Lankan sea coast (39 km-undersea), a 400 KV HVDC over-head line runs from the Sri Lankan coast to Anuradhapura / Puttalam (125km).
This is a combined project of the two countries and it is an investment of around $330 million. PowerGrid Corporation, which is India's central transmission utility, will be acting as the project implementation agency. A pre-feasibility survey is already been carried out by the PowerGrid Corporation regarding this project. The project is expected to be completed by 2013.
By: Sachintha Kariyawasam
Email this page to a friend


Updated: 2016/06/30
If you speak another language fluently and you liked this page, make a contribution by translating it! For additional translations check out FreeTranslation.com (Voor vertaling van Engels tot Nederlands) (For oversettelse fra Engelsk til Norsk)
(Для дополнительных переводов проверяют FreeTranslation.com )