Japan's nuclear dilemma: Is geothermal the answer?
Nov 5, 2012 - The Christian Science Monitor
TSUCHIYU, JAPAN
Walking through Tsuchiyu's near-deserted streets on a rainy weekday afternoon, it's hard to imagine that this spa town of 450 could become a standard-bearer in Japan's quest to wean itself off nuclear power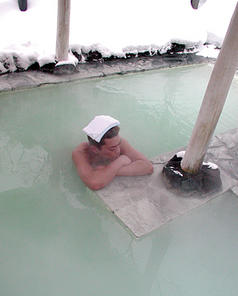 Until recently, onsen (hot spring) operators were vocal opponents of geothermal power, which, along with other forms of renewable energy, is being considered as a serious alternative to nuclear power: Geothermal plants, they had once feared, would affect the level and quality of water that draws millions of Japanese to onsen resorts every year.
But then came the meltdown at the Fukushima Daiichi nuclear power plant – and renewed attention to long-neglected geothermal power as a potential solution to Japan's energy conundrum. And onsen operators – a key constituency for the tourism they drive – are slowly coming on board.
QUIZ What's your Japan IQ? Take our quiz.
Located nine miles southwest of Fukushima city, Tsu­chi­yu is launching a bold test in harnessing the potential of Japan's huge subterranean reserves of volcanic water.
By spring 2014, Tsuchiyu hopes to be generating 250 kilowatts of electricity – about a quarter of its total needs – at a new geothermal plant located on its outskirts.
Japan's energy policy, announced after two months of consultations with the public, calls for renewables to make up about 30 percent of Japan's future energy mix – an eightfold rise from 2010 levels.
The plan will see new investment in renewables totaling about $476 billion over the next 20 years. In the short term, however, Japan will continue to import record quantities of fossil fuels to fill the gap.
Encouraged to invest in renewable
Businesses, meanwhile, have been encouraged to invest by a new tariff that will enable them to sell electricity from renewable sources to utilities at above-market prices.
Marubeni Corp. is about to begin building Japan's largest solar energy complex, in Oita Prefecture. After it's completed in early 2014, its 350,000 solar panels will be capable of generating more than 81,000 kilowatts – enough electricity for 30,000 households.
Sumitomo Corp. is to add wind farms and biomass plants to its energy inventory, and expects profits from wind alone to triple in the next three years.
Email this page to a friend


Updated: 2016/06/30
If you speak another language fluently and you liked this page, make a contribution by translating it! For additional translations check out FreeTranslation.com (Voor vertaling van Engels tot Nederlands) (For oversettelse fra Engelsk til Norsk)
(Для дополнительных переводов проверяют FreeTranslation.com )