China Completes Cross-Border Power Transmission Project With Russia
BEIJING, Jan. 1 (Xinhua) -- State Grid Corporation of China (SGCC), the country's largest power supplier, said Sunday it has put to trial operation a cross-border electricity transmission project in northeastern Heilongjiang province to supply Chinese with Russia's electric power exports.
The electric power SGCC purchased from Russia began reaching Chinese customers late Saturday night after the completion of the direct-current back-to-back networking substation, or called "the trans-Amur project" by Russians, SGCC said in a statement on its website.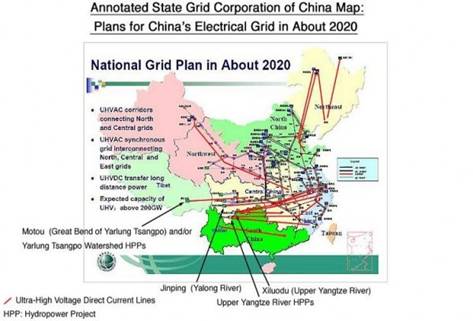 The trial operation will last 168 hours, SGCC said in the statement. With a transmission capacity of 750 mega-watts, the electricity transmission project is China's biggest cross-border power line, according to SGCC. "The implementation of the project will gain experience for the expansion of Sino-Russian energy cooperation and help promote the economic development for both countries," SGCC said. The project is also part of the Sino-Russian energy and trade cooperation.
Russian Deputy Energy Minister Andrei Shishkin said in June 2011 that the transmission project would increase Russia's power supply to five or six billion kilowatt hours of electricity to China and Russia intended to increase its electricity supply to China in the coming years.
Russian companies plan export 60 billion kwh of electricity to China by 2020. Power plants will be built along its border with China to reduce power transmission losses and reduce transportation costs.
Also on Sunday, an oil pipeline linking Russia's far east and northeast China witnessed its one year anniversary of operation, as operators announced an accumulated 15 million tonnes of oil had been transported into China in 2011.
China Upgrades Its First UHV Electricity Transmission System
Beijing Dec 16 (Xinhua) -- China on Friday put into operation a project extending its ultra high voltage (UHV) system to boost electricity transmission capacity from the country's energy-rich northern regions to the power-short central provinces.

After the extension, the 640-km Jindongnan-Nanyang-Jingmen 1,000-kilovolt alternating grids will double the electricity transmission capacity and greatly relieve the power shortage when demand peaks in winter and summer under the Central China Grid, according to the State Grid Corporation of China (SGCC), which built the UHV lines.

A total of 120 million kwh of electricity -- equal to 60,000 tonnes of coal equivalent -- can be transmitted daily through the grids, which run between the city of Jingdongnan in northern Shanxi province and Nanyang, Henan province and Jingmen, Hubei province in central China.

As the first such grid designed and built by China, the UHV grid became operational in January 2009 and was upgraded this year. In January this year, the SGCC said it planned to invest 500 billion yuan (78.9 billion U.S. dollars) to extend its UHV electricity transmission lines to six by 2015. UHV, defined as voltage of 1,000 kilovolts or higher of alternating current and 800 kilovolts of direct current, is designed to deliver large quantities of power over long distances with less power losses than traditional lines.
(c) 2012 Xinhua News Agency
Email this page to a friend


Updated: 2016/06/30
If you speak another language fluently and you liked this page, make a contribution by translating it! For additional translations check out FreeTranslation.com (Voor vertaling van Engels tot Nederlands) (For oversettelse fra Engelsk til Norsk)
(Для дополнительных переводов проверяют FreeTranslation.com )