Chile to build 110MW CSP tower
Jan 10, 2014 - Lucy Woods - pv-tech.org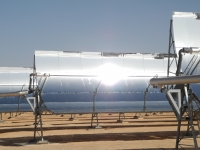 The molten salt technology allows for energy to be stored up to 17.5 hours.
"Chile's Ministry of Energy and government agency for entrepreneurship, COFO, has awarded a tender for South America's first concentrated solar power (CSP) plant.
The tender for the 110MW molten salt power technology plant was awarded to sustainability technology developer, Abengoa.
The CSP plant will use molten salt power technology, allowing energy to be stored for up to 17.5 hours, without direct solar radiation..."
Read the whole article at PV Tech: http://www.pv-tech.org/news/chile_to_build_110mw_csp_tower
---

Updated: 2003/07/28