Mega projects make up 68% of 95GW global project pipeline: NPD Solarbuzz
Feb 18, 2014 - John Parnell - pv-tech.org
PV projects in excess of 50MW now represent 68% of the global project pipeline, however their enormous scale means they may not be the most interesting segment for developers.
The 70MW Kagoshima, power plant in southern Japan. Source: Kyocera.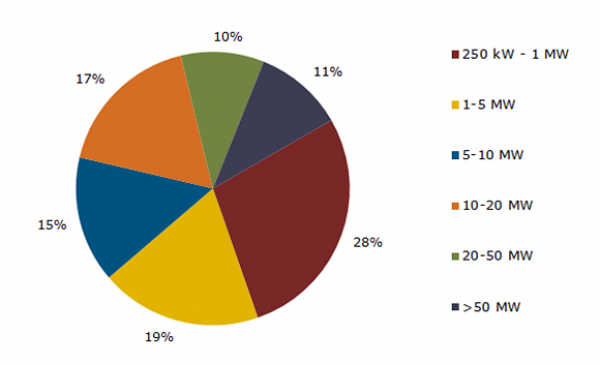 The 4,300 projects in the leading PV markets, by size. Source: NPD Solarbuzz Global Deal Tracker .
According to the latest NPD Solarbuzz Global Deal Tracker report, the top PV markets now have a project pipeline of 95GW.
Although the more than two-thirds of this is made up of the 500 largest plants, it is the mid-scale marker that could be more interesting.
"While projects in excess of 50MW account for most of the solar PV pipeline capacity, smaller projects up to 5MW can typically be approved and completed within a matter of months, making this segment particularly interesting to suppliers and developers," said Chris Beadle, analyst, NPD Solarbuzz.
There are now 4,300 yet-to-be-completed projects between 250kW and 5MW.
"Understanding the status of the project pipeline within the leading global markets is critical to component suppliers and project developers seeking to participate in the high-growth solar PV industry," added Finlay Colville, vice president at NPD Solarbuzz.
"With global PV demand still concentrated among just a few countries, sales and marketing efforts will achieve the greatest rewards when they are aligned with projects that have the best chances for near-term deployment," said Colville.
The report considers the top PV market to be China, Japan, India, Thailand, Australia, Germany, UK, Italy, France, Canada and the US. The nations now account for 80% of the expected PV demand in the next five years.
China, Japan and the US are out in front with 65GW of the 95GW pipeline. NPD Solarbuzz expects the trio to install 24GW of commercial and utility-scale solar in 2014.
---

Updated: 2003/07/28