NREL says Global Solar first to exceed 13% efficiencies for CIGS on flex stainless-steel substrate
Feb 25, 2010 - Tom Cheyney- PV-tech.org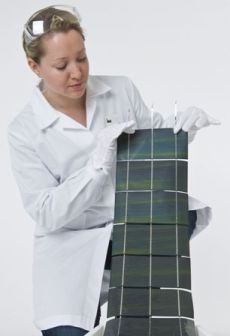 In the latest example of increasing CIGS conversion efficiencies, the Department of Energy's National Renewable Energy Laboratory has confirmed that Global Solar Energy has achieved 13.2% aperture-area efficiency on a thin-film photovoltaic module integrated with flexible cell-strings from its copper-indium-gallium-(di)selenide production line in Tucson, AZ.
CEO Jeff Britt told PV Tech that median efficiencies have risen above 11% on the production line and that the company plans to launch its BIPV product line this year.

The latest numbers exceed the company's efficiencies announced in September 2009, when NREL said it had measured 15.45% total area conversion efficiencies for the individual cells, and Global Solar had cited record peak efficiencies at the time of 11.7% on its flexible stainless-steel cell strings and median efficiencies between 10 and 11%.

Ryne Rafaelle, director of NREL's National Center for Photovoltaics, said in a statement that Global Solar "is the first company to exceed the 13% efficiency target using thin films on a flexible stainless-steel substrate, and joins a small number of PV companies which have met this high-efficiency milestone for large thin-film power modules."
"This result is remarkable, given that the module was made using standard production equipment and manufacturing processes," he added.

Global Solar's Britt said in a phone interview with PV Tech that "was a production string taken right out of our processes, so there was nothing special done. We have, over the course of the last year, had some steady progression in both efficiency and yield."

"We started at the beginning of 2009 with an average efficiency of around 7½% or so and at the end of 2009, we finished with an average efficiency of greater than 11%," he noted. "We have also been able to substantially increase the yield," hitting "electrical test yields of greater than 95%."

The flexible 18-cell, 51W CIGS string, about 1.8m × 200mm with an area of about 0.39m2, was laminated inside a flat-plate module for the NREL tests, according to Britt. A commercial module, nominally rated at 180W, would incorporate four of the Global strings.

Putting the string under glass was "to protect it for the official measurements at NREL," the company exec said, not for any reasons of possible efficiency gains.

"When we put these things in flexible laminates, we get the same or frequently higher efficiencies than when they're put behind glass, because there's less absorption of light in the material we put on top of it," he explained.

Britt, who took over as CEO in November and still wears the CTO hat for the time being, said that although Global Solar continues to provide flex CIGS strings for utility-type flat-plate modules made by Solon and others, the focus is on bringing a flexible building-integrated PV product to market.

"We're in the middle of a product development cycle right now that is aimed toward introducing a flexible product line that will be used in the commercial space" by the end of the year, he said.

Britt added that the company is "in the queue to get the testing done" for those BIPV-type laminates, with the "intention to get full certification done this year."
---

Updated: 2003/07/28