A Compelling Global Strategy for
Peace and Sustainable Development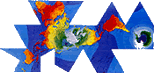 The GENI Initiative focuses on linking renewable energy resources around the world.



Three decades ago, visionary engineer Dr. R. Buckminster Fuller developed the World Game simulation, posing the question:



How do we make the world work for 100% of humanity in the shortest possible time through spontaneous cooperation without ecological damage or disadvantage to anyone?



The premier global strategy is the interconnection of electric power networks between regions and continents, with an emphasis on tapping abundant renewable energy resources.



The benefits are proven:
Decreased pollution from fossil and nuclear fuels
Reduced hunger and poverty in developing nations
Increased trade, cooperation and peace.
Stabilized population growth
Attend the Bucky Play


Tell your friends about this page
!

Bookmark this page — Add this to your Favorites

If you speak another language fluently and you liked this page, make a contribution by translating it!
---
GENI
-- PO Box 81565, San Diego, CA, USA 92138 &nbsp &nbsp Phone: (619) 595-0139
Fax: (619) 595-0403 &nbsp &nbsp Email:
info@geni.org
&nbsp &nbsp
http://www.geni.org
&nbsp &nbsp Updated: 2002/09/26