Library >> Current Articles on Renewable Energy Resources and Transmission >> Smart Grid
Articles on the Smart Grid
"The smart grid concept is predicated on a two-way flow of energy-and information-between electricity generators and end users. The system not only delivers power to end users as needed, depending on demand; it also gathers power from end users that produce their own—homes and businesses that generate solar, wind or geothermal power themselves—when they have more than they need." http://www.sciam.com/article.cfm?id=upgrading-power-grid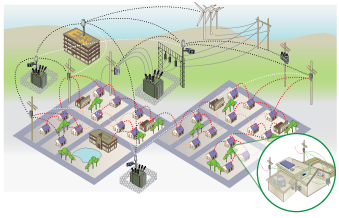 Trilliant Inc.
Integrating Wind and Solar Energy in India For A Smart Grid Platform (1.7 MB download) Presentation (5.3 MB download)
Feb, 2013 - Farhan Beg


Supergrid Modelling and Risk Assessment for the Indian Subcontinent (1.3 MB download) Presentation (3.1 MB download)
Feb, 2013 - Farhan Beg


Asia Report: After Quake, Japan Pushes for Asia Supergrid
Mar 21, 2012 - renewableenergyworld.com

Japan this week marks the one year anniversary of the devastating earthquake and tsunami that has since forced it to re-evaluate its nuclear strategy. In doing so, it also unveiled a plan that could have big implications for renewable energy across the continent.


Finding solutions to Achilles' heel of renewable energy: intermittency
Mar 7, 2012 - Diana Lutz - news.wustl.edu

Engineers imagine an energy future where giant transmission grids are backed up by massive energy storage units


Haiti seeks to rebuild, or just build, power grid
Mar 7, 2012 - Trenton Daniel - ajc.com

Sometimes it seems as though the people here have only the sun and moon: the blinding sun that bakes their mud homes and moonlight that with flickering gas lamps fights against the dark of night.


Ethiopian electric cable to Sudan completed
Mar 2, 2012 - Tesfa-Alem Tekle - sudantribune.com

February 19, 2012 (ADDIS ABABA) – Ethiopia has completed a power transmission line that links its power grid with neighbouring Sudan, state Electric and Power Corporation (EEPCO) announced.


2 mln more Chinese to have access to electricity
Mar 2, 2012 - china.org.cn

The State Grid Corporation of China (SGCC), the country's largest power supplier, pledged Tuesday to launch projects in the country's most remote corners, offering another 2.07 million people access to electricity by the end of 2015.


India's Soaring Energy demands strain national grid
Mar 2, 2012 - John Daly - oilprice.com

As the "Third World" races to industrialize, rising population demands for reliable energy place increasing stress on a country's power generating capabilities, and nowhere is this more evident than in BRIC nation India.


World Bank installs 1.2 mn solar systems in Bangladesh
Mar 1, 2012 - twocircles.net

Dhaka : The World Bank has helped install more than 1.2 million solar home systems for electricity in rural Bangladesh, the Washington-based lender said Wednesday.


GE to construct 10,000mw power plant in Nigeria
Feb 23, 2012 - www.businessdayonline.com

General Electric (GE), a leading global company, originating from the USA, is to construct a 10,000 mega watts power plant in Nigeria, Minister of Power, Barth Nnaji has said.


New grid under-sea cable to connect England and Scotland
Feb 23, 2012 - theenergycollective.com

While politicians talk of Scottish independence from England, a world-beating €1.1 billion contract has today been announced to make the two countries even more interconnected.


Iran plans to connect power grid to Russia
Feb 8, 2012 - tehrantimes.com

Iran plans to connect its national power electricity grid to Russia by the next calendar year which will end on March 20, 2013, Iran power generation transmission and distribution management company (TAVANIR) managing director stated.


South Asian countries to work on power links
Nov 28, 2011 - dailytimes.com.pk

Bangladesh's PM Sheikh Hasina says SAARC members committed to solve electricity shortages. Dhaka says framework will be finalised by October this year.


Siemens Debuts HVDC PLUS with San Francisco's Trans Bay Cable
Nov 17, 2011 - Justin Gerdes - siemens.com

A new 85-kilometer cable running under the San Francisco Bay can transmit up to 40 percent of the peak power needs for the City of San Francisco. The link is the world's first deployment of Siemens' next-generation HVDC PLUS technology, a transmission solution for space-constrained urban environments and remote sources of renewable energy.


Smart grid is all fine, but just get transmission built, group tells DOE
Jul 13, 2011 - Kathy Larsen - platts.com

A transmission-interest group lamented the other day that the Department of Energy didn't specifically put upgrading and expanding the high-voltage transmission grid in the Strategic Plan it released earlier this month.


Intermittency and the HVDC Supergrid
May 22, 2011 - Howard Silverman - peopleandplace.net

Smart grid or supergrid? Although the terms are sometimes used interchangeably, distinguishing them can be useful.


How microgrids will change the way we get energy from A to B
Jul 12 ,2010 - Camille Ricketts - green.venturebeat.com

The movement toward a cleaner, more efficient electrical grid is underway. And while digital electricity meters seem to be at the forefront, a radically new concept of energy distribution is quietly taking shape: small, locally-generated power systems — otherwise known as microgrids.


Stakeholders Team Up To Expand Europe's Super-Grid
May 14, 2010 - John Blau - renewableenergyworld.com

In order to incorporate more renewable energy – especially offshore wind – into the European grid, financing and technological questions must be addressed.


The super cool power grid
Apr 28, 2010 CNNMoney.com

An inside look at one of the first energy-efficient superconducting power distribution facilities in the U.S


The Benefits of Building a Smart Energy Grid
Apr 20, 2010 - Oliver Munday - good.is

A smart energy grid—which can measure usage and help efficiently manage power grids—could reduce power costs and benefit the environment as well, since a more efficient grid would require less energy from power plants.


Scaling Up Renewables and the Smart Grid
Mar 30, 2010 - Alison Wise, National Renewable Energy Lab

There are many experts who feel that the market potential of renewable energy will only be fully realized if smart grid technologies and services are successful. But first, we need to define the smart grid.


Planning the 'smart grid'
Feb 8, 2010 - Billings Gazette, Billings, renewablesbiz.com

Borgquist doesn't build wind farms, rather he's got a plan for collecting and transmitting wind power. Ultimately, he hopes to gather enough wind-generated electricity to equal the output of Hoover Dam, or two coal-fired power plants at Colstrip.


New Directions in Transmission
Jan 27, 2010 - Salvatore Salamone -

In countries around the world, there is a growing need to move what is expected to be significant amounts of wind, solar and hydro-generated electricity from sparsely populated remote regions to the cities where demand is great.


S.Korea targets $24 bln smart grid spending by 2030
Jan 25, 2010 - Reuters

South Korea is aiming for spending of 27.5 trillion won ($24 billion) over the next two decades on smart grids to make electricity distribution more efficient, cut greenhouse gas emissions and save $26 billion in energy imports.


Smart Electricity Grid Reaches Texas
Jan 19, 2010 - intelligent utility - EnergyBiz

The benefits of the smart electricity grid - including detailed information about electricity use and lower rates when demand drops -- are now available to Texas electricity customers with advanced "smart" meters. Reliant Energy is offering two new smart energy services that give customers the tools and information they need to manage their energy usage better - the Reliant Energy Weekly Summary email and Time-Of-Use plan.


Secretary Chu Announces $620 Million for Smart Grid Demonstration Projects
Nov 25, 2009 - Clean Edge News

Secretary Chu recently announced that the Department of Energy is awarding $620 million for projects around the country to demonstrate advanced Smart Grid technologies and integrated systems that will help build a smarter, more efficient, more resilient electrical grid. These 32 demonstration projects, which include large-scale energy storage, smart meters, distribution and transmission system monitoring devices, and a range of other smart technologies, will act as models for deploying integrated Smart Grid systems on a broader scale. This funding from the American Recovery and Reinvestment Act will be leveraged with $1 billion in funds from the private sector to support more than $1.6 billion in total Smart Grid projects nationally.


U.S. electrical grid gets $3.4 billion jolt of stimulus funding
Oct 28, 2009 - Michael A. Fletcher - The Washiongton Post

ARCADIA, FLA. -- President Obama stepped up his promotion of the job-creating potential of the $787 billion economic stimulus package Tuesday, announcing $3.4 billion in grants to improve the nation's electrical grid.


Stimulus powers up 'smart grid'
Oct 28, 2009 - Tom Fowler - Chron Energy

Two Houston companies landed nearly $220 million in federal stimulus funds to bolster "smart grid" projects aimed at improving power system reliability and helping consumers use less electricity.


Obama putting $3.4B toward a 'smart' power grid
Oct 27, 2009 - Josef Hebert - The Associated Press

President Barack Obama made a pitch for renewable energy Tuesday, announcing $3.4 billion in government support for 100 projects aimed at modernizing the nation's power grid.


The Smart Grid Is On Its Way - Slowly
Oct 27, 2009 - Marc Gunther - Reuters

Today, President Obama travels to Arcadia, Florida, home to one of the nation's biggest solar power plants, to announced 100 grants providing a total of $3.4 billion in recovery-act funding for the smart grid.


GE, Whirlpool and Others Launch Smart Green Grid Initiative Aimed at Including Smart Grid in Copenhagen Meetings
Oct 20, 2009 - Smart Green Grid

GE, Whirlpool Corporation and a number of other companies today announced the creation of a new collaborative effort aimed at demonstrating the role of smart grid technologies and practices in the achievement of climate change goals. Called the Smart Green Grid Initiative (SGGI), the effort will include educational events at the upcoming climate change meetings in Copenhagen. SGGI has been approved by the United Nations to be an official smart grid delegation to the Copenhagen meetings. SGGI will also be sponsoring educational events in the U.S. in the weeks preceding the meetings in Copenhagen.


Decentralizing electricity
Oct 14, 2009 - Stefan Schultz - Spiegel Online

Electric cars, intelligent washing machines, mini power plants in your basement: Germany is on the verge of an energy revolution. SPIEGEL ONLINE looks at the latest developments in the smart grid and how it will change the relationship between consumers and energy suppliers.


Hawaii picks Maui luxury resort as site to test smart-grid technology
Oct 12, 2009 - Larry Greenemeier - ScientificAmerican.com

Hawaii has been working for more than a year to map out concrete plans to harness the abundant—though unpredictable—winds that blow across the state's numerous islands. As the state and its utilities draw up plans for wind farms and other green-energy facilities to help meet the goal of pulling 70 percent of power from clean energy by 2030, General Electric Company has announced it will test its smart-grid technology (designed to efficiently manage energy from a variety of sources while cutting down on overall consumption) in the Maui luxury resort community of Wailea, the Associated Press reports.


US sees largest, fastest rollout of smart meters ever
Oct 9, 2009 - Greenbang

By the end of this year, Oncor and Landis+Gyr expect to have completed the largest and fastest deployment of smart meters ever in the US.


Trilliant and IBM Team up to Tackle Smart Grid
August 27, 2009 Source: Clean Edge News

Trilliant Incorporated, a developer of smart grid solutions that enhance energy efficiency, utility operations, and renewable resource integration, recently announced it is integrating its technology with IBM WebSphere and Tivoli products to help utility companies more easily and securely expand their Smart Grid initiatives.


Electrical Grids Need to Be Smarter, Says NextGen Research


Aug 06, 2009 - BUSINESS WIRE



The aging US electrical power grid is a security risk due to its centralized infrastructure, which leaves it open to failures on a massive scale (as seen during the Northeast Blackout of 2003, which left as many as 45 million people in eight US states in the dark). The electrical power infrastructure of Europe is similarly antiquated, and needs to be upgraded if the EU is to attain its 20/20/20 goals of reducing carbon emissions by 20%, improving energy efficiency by 20% and increasing the use of renewable energy sources by 20%, all by the year 2020.


Report: Over Eight Million Smart Meters Deployed in U.S., with Millions More to Come
Jul 21, 2009 - Clean Edge News

With over eight million smart meters already deployed in the U.S., the market for residential energy management has taken the first significant steps in deploying Smart Grid technologies and advanced meter infrastructure (AMI) on a broad scale, according to Parks Associates.


Secretary Chu Announces More than $57 Million in Recovery Act Funding to Advance Smart Grid Development
Jul 20, 2009 - DOE Press Release

This project is a cooperative effort among Virginia Tech, the IEEE Power & Energy Society and EnerNex Corporation to design, populate, manage and maintain a public Smart Grid Information Clearinghouse (SGIC) portal


Renewable Energy Law Alert: FERC Policy Statement Seeks to Accelerate Deployment of Smart Grid Technology
Jul 20, 2009 - Stoel Rives

On July 16, 2009, the Federal Energy Regulatory Commission ("FERC") issued its Policy Statement on smart grid technologies, directing the development of key operational standards and implementing an interim incentive rate policy that will allow for cost recovery of deployed smart grid technologies and certain legacy systems made obsolete by such deployment. The Policy Statement also establishes an important jurisdictional line by providing that, although FERC's rate recovery authority is limited by section 205 of the Federal Power Act, FERC is vested with the authority to adopt smart grid standards applicable to all electric power facilities—even those at the local distribution level and those directly used by retail consumers.


Climbing onto the smart grid
Jul 5 - Libby Tucker - McClatchy Tribune Regional News

Southwest Washington's high-tech industry is wising up to the business opportunities in the smart grid -- also called the Internet for the electrical power grid.


Obama Administration Announces Availability of $3.9 Billion to Invest in Smart Grid Technologies and Electric Transmission Infrastructure
Jun 25, 2009 - U.S. Department of Energy

U.S. Energy Secretary Steven Chu announced today that the Department of Energy is soliciting applications for $3.9 billion in grants to support efforts to modernize the electric grid, allowing for greater integration of renewable energy sources while increasing the reliability, efficiency and security of the nation's transmission and distribution system, as part of the American Recovery and Reinvestment Act.


'Smart grid' - power lines move into digital age
Jun 7, 2009 -

H. Josef Hebert - The Associated Press




Thomas Alva Edison, meet the Internet. More than a century after Edison invented a reliable light bulb, the nation's electricity distribution system, an aging spider web of power lines, is poised to move into the digital age.

New energy and environment digest - China's smart grid ambitions could open door to US-China cooperation
Jun 5, 2009 - Elizabeth Balkan - needigest.com

China's largest electric transmission company has announced an ambitious plan to develop a national smart grid by 2020 that would help utilities and their customers transport and use energy more efficiently.


Utilities Test Google Software To Save Energy
May 20, 2009 -

Dow Jones & Company, Inc



A handful of electric utilities are rolling out software made by Internet giant Google Inc. (GOOG) as part of their "smart- meter" programs in hopes it will help customers conserve energy.


PAX technology offers AC breakthrough
May 4, 2009 - Loralee Stevens - Business Jornal

NOVATO – A hand-picked team of scientists at PAX Streamline has come up with an air-cooling system that could remove up to 80 percent of electricity from the grid and revolutionize the way large spaces are cooled.


Architecting a Smart Electricity Grid: Leveraging Best Practices from the Internet
April, 2009 - Balaji Natarajan - EnergyCentral

Part I of this two-part article will discuss the conceptual architecture of a smart electric grid leveraging best practices from the Internet, HLA, and large-scale collaboration systems.


The Super Grid: Practical or a Pipe Dream?
Apr 22, 2009 - EnergyBiz Insider

With all the recent discussion of a national or "super" grid by the federal politicians, it's easy to forget that the idea is not new. In fact, the concept of a wide-area transmission network enabling the trading of high volumes of electricity across vast distances dates back to the 1960s when Europe began unifying its system.


How Upgrading the Power Grid Will Save Energy and Money
Apr 6, 2009 - Scientific American

Two-way power supplies and updated technology are the key to powering the future.


Smart Grid Less Important Than Building More Power Lines
Mar. 9, 2009 - Jay Yarow - The Business Insider

In the Wall Street Journal venture capitalist Vinod Khosla, says "90% of the senators in Washington" don't know the difference between a smart grid and merely building transmission lines.


Stimulus Bill Funding Opportunities for Smart Grid, Energy Storage and Other Energy Technologies
Mar 6, 2009 - Stoel Rives, LLP

In an effort to cultivate a robust green economy, the American Recovery and Reinvestment Act of 2009 (the "Stimulus Bill") provides significant funding opportunities for renewable energy, energy efficiency, energy storage and other projects in the energy and climate change realm. The bill authorizes $16.8 billion in direct spending by the U.S. Department of Energy?s ("DOE") Office of Energy Efficiency and Renewable Energy ("EERE") on renewable energy and energy efficiency programs over the next ten years. Of this $16.8 billion, the Stimulus Bill allocates considerable funds for R&D demonstration projects and advanced battery grants. In addition to this allotment, significant funding is also directed toward improving the electricity grid.


US Interior Secretary Says Department Will Play Large Role in Transmission
Feb 24, 2009 - RenewableEnergyWorld.com

Washington, D.C. - U.S. Secretary of the Interior Ken Salazar participated in a roundtable with many of the nation's top leaders at a summit examining how development of renewable energy in conjunction with a "National Clean Energy Smart Grid" is an economic, environmental and national security imperative.


Building a National Clean-Energy Smart Grid
Feb 23, 2009 - Bracken Hendricks - Center for American Progress

The United States stands at a crossroads. The convergence of a deep economic recession, high unemployment, energy insecurity, and a looming climate crisis demands decisive action. Our country is embarking on an economic recovery plan of historic proportions. Investments in our public infrastructure will be made to get the economy moving, but we need to make sure we get the economy moving in the right direction. Jump-starting economic activity is only the start. The future of our nation's competitive economic advantage and our long-term prosperity rests on the choices we make now—in particular, whether we build a modernized infrastructure for jobs and growth that uses resources wisely, anticipates the coming demand for low-carbon energy, and captures new opportunities for innovation and improved productivity.
---
Related GENI Resources
Definition Solar Energy

Renewable Energy Resource Maps

National Energy Grid Maps
Links
IREC Connecting to the Grid (Interstate Renewable Energy Council)

CIGRE: International Congress on Large High-Voltage Electric Systems
Email this page to a friend


Updated: 2016/06/30
If you speak another language fluently and you liked this page, make a contribution by translating it! For additional translations check out FreeTranslation.com (Voor vertaling van Engels tot Nederlands) (For oversettelse fra Engelsk til Norsk)
(Для дополнительных переводов проверяют FreeTranslation.com )