Marines push to front lines in renewable energy innovation
Jul 18, 2013 - Justin Gerdes - greenbiz.com
his article originally was published by Yale Environment 360 and is reprinted here with permission.
Last month at the U.S. Marine Corps' Mojave Desert combat training center, some of the military's best and brightest gathered to test the latest in energy-saving gear. The gadgets sound like ones that a green scientist might dream up if set loose in Q's lab -- collapsible solar arrays, electricity-generating backpacks, hybrid power systems using solar panels and personal cooling vests. But as I saw on a visit to the center, these devices are very real -- some already have been deployed on the battlefield in Afghanistan -- and demonstrate the Marine Corps' determination to save fuel in the field.
Since 2001, the average Marine Corps infantry battalion has a 300 percent increase in computers and IT equipment and a 200 percent increase in vehicles. This proliferation of energy-guzzling gear comes at a steep cost: marines wounded or killed in fuel and water convoys, as well as a surging fuel bill for taxpayers.
According to a Marine Corps study conducted two years ago, one Marine was killed or wounded for every 50 fuel and water truck convoys in Afghanistan, and 1 in 17 of the convoys was disrupted by an improvised explosive device. Seventy percent of the logistics required to sustain Marine Corps expeditionary forces onshore is for fuel and water. An infantry company (125-150 Marines) today uses more fuel than an infantry battalion (900-1,000 Marines) did in 2001. In Afghanistan, the corps has spent $794 million in one year for the fuel used by Marines deployed at some 300 sites. According to Major Brandon Newell, technology lead for the Marines' Expeditionary Energy Office, approximately 60 percent of that fuel is burned to provide climate control for Marines and their equipment.
But now the Marines and the other U.S. Armed Forces have launched aggressive initiatives to reduce their dependence on fossil fuels -- on the battlefield as well as at far-flung installations in the U.S. and across the globe.
If you listen to Marine Corps brass talk about energy, it's clear that the corps' growing fuel burden is recognized not just as a budget-buster in a time of austerity but as a threat to the very idea of what it means to be a Marine. The corps' charge is to be ready to jump from ship to shore and operate in hostile and austere environments for up to 120 days with limited resupply. The missions call for agility, speed and self-sufficiency -- attributes at odds with a fuel umbilical cord.
The occasion for my visit to the Marine Corps Air Ground Combat Center, just outside Twentynine Palms, Calif., was the corps' sixth ExFOB (Experimental Forward Operating Base) demonstration. Founded in 2009, ExFOB brings together personnel from the Marine Corps, the Office of Naval Research and the other armed forces to identify and evaluate promising energy-saving solutions. Private companies are invited to demonstrate commercial technologies that can be quickly deployed to the battlefield.
The focus of last month's ExFOB demonstration was hybrid power generation systems, which combine solar energy with traditional generators powered by jet fuel. Newell said the corps is keen to do away with the status quo -- stand-alone generators. He said at a presentation last year that the median demand in the field is 32 percent of the generator capacity, leading to a significant waste of fuel.
"Eighty or ninety percent of the time I'm going to be inefficient because the system is designed to meet the peak load," Newell explained. "Hybridizing solves that for us."
The 13 hybrid systems exhibited by 10 companies at ExFOB last month packaged solar photovoltaic panels, battery storage and smart controls with generators. Electricity from the solar panels can be used in real time or stored for use later, reducing the generator's running time. Newell said the hybrid system also keeps the generators from running at low loads, which wears them out more quickly.
The hybrid systems build upon technologies already successfully deployed to Afghanistan. A Marine Corps company, the India 3/5, equipped with SPACES (Solar Portable Alternative Communications Energy System) and GREENS (Ground Renewable Expeditionary Energy System), operated two patrol bases entirely on solar power in the summer of 2010.
"These two systems are now available to all Marines in the Marine Corps," Colonel Bob Charette, director of the Marines' Expeditionary Energy Office, said at an ExFOB briefing. "For Washington, D.C. -- typically known for going kind of slow -- in three years we not only have stuff in Marines' hands, we're also looking at the next generation."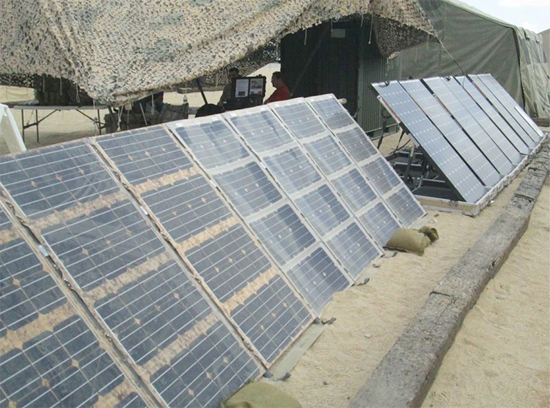 Equipped with glass-free solar panels, the newer version of the portable solar GREENS system weighs 45 percent less than its predecessor.
Much of the corps' next-generation technology will be incorporated into the updated portable solar GREENS system. The first-generation system proved its worth in the field, said Newell, but it was weighed down by heavy glass solar modules. The goal for the second iteration is a 50 percent reduction in weight, 10 percent reduction in size and 10 percent more energy harvested. The GREENS 2.0 prototype, outfitted with glass-free solar panels from SBM Solar and frames made by Composite Technology Development (CTD), already weighs 45 percent less than its predecessor, according to Newell. I watched as CTD's Robert Taylor broke down the unit. He rolled the pliable plastic frame legs into a tight bundle, which he placed, along with the folding solar panels, into a long, thin box.
All images courtesy of Justin Gerdes.
Next page: Wearable solutions
---

Email this page to a friend


Updated: 2016/06/30
If you speak another language fluently and you liked this page, make a contribution by translating it! For additional translations check out FreeTranslation.com (Voor vertaling van Engels tot Nederlands) (For oversettelse fra Engelsk til Norsk)
(Для дополнительных переводов проверяют FreeTranslation.com )