| | | |
| --- | --- | --- |
| | | |
| | J u n e 2 0 1 0 — Volume 18, Issue 6 | |
| | The GENI-us Letter | |
The Path Of Pollution Versus The Road To Renewables
Dear GENI Friend,


The BP oil leak has been gushing for nearly 2 months and has become the worst oil disaster in U.S. history.  Daily images capture the devastating effects on wildlife, the beaches, fisherman and the entire Gulf region.  We all seem to feel a collective helplessness and anger as this wound continues to bleed on our planet.
Yet, how many of us have actually changed our habits or lifestyle?  Nearly all transportation burns petroleum in a combustion engine, while coal and gas remain the dominant fuels that we extract and burn to power our lights and refrigerate our food.  This Path of Pollution will continue to have accidents — mining disasters, gas explosions and oil spills, creating climate changing gases that ever increase.
'This is a crisis that we should not waste.'  The Obama administration expressed this sentiment and responded dramatically to the 2008 credit crisis.   It is time to recognize the need to dramatically shift away from our global dependence on fossil fuels.  The United States is not alone, as most all nations remain addicted to coal, oil and gas.  Yet the Road to Renewables is right in front of us.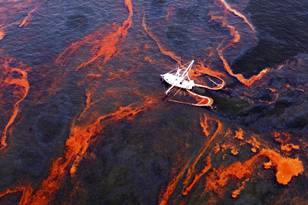 The U.S. National Renewable Energy Lab just released a study that shows how we can accommodate a large increase of solar and wind on the existing electrical grid: 35% by 2017.  This would also decrease carbon emissions by 25-45%. 
Fishing boat skimming oil.   Gay/AP photo
This is a domestic solution for all nations with clean energy jobs in R&D, manufacturing, installation — and the money that is spent on importing oil will remain within your country.
Next year you can buy your electric car or plug-in hybrid and power the battery from the sun and the wind.  Now, you can buy your electricity from a green energy provider and invest in green companies.  Buckminster Fuller said that we often "emerge through emergency," and this is certainly an opportunity to make the shift.  We can no longer be complacent.
In partnership for the planet,


Peter Meisen
President
p.s. You can send your green gift to GENI right now.

Email this page to a friend
Updated: 2010/01/08
If you speak another language fluently and you liked this page, make a contribution by translating it! For additional translations check out FreeTranslation.com (Voor vertaling van Engels tot Nederlands) (For oversettelse fra Engelsk til Norsk)
(Для дополнительных переводов проверяют FreeTranslation.com )