| | | |
| --- | --- | --- |
| | | |
| | O c t o b e r 2 0 1 0 — Volume 18, Issue 10 | |
| | The GENI-us Letter | |
Ending Energy Poverty
Dear GENI Friend,


The United Nations met last month to access the progress of the Millennium Development Goals (MDGs). The results have been mixed, as the global recession has caused many governments to focus on their internal economies and less on global poverty.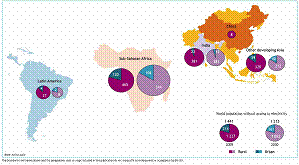 The International Energy Agencies (IEA) assessment report, How to Make Modern Energy Access Universal addresses two primary dimensions of energy poverty: lack of access to electricity and reliance on traditional biomass for cooking. To achieve the MDGs set for 2015, another 400 million people must gain access to electricity in the next 5 years. That's 6.7 million new users a month!
The more ambitious target of universal access will require investing $36 billion per year over the next 20 years.
Faith Birol of the IEA stated that this amount is equal to just 12% of current fossil-fuel subsidies in developed nations. He emphasized the need for political will to drive this change.
Here is a look into our future. We can either ignore the warning and accept this outcome, or take the needed steps to change course. We have become wealthy from our fossil-fuel addiction. Shifting our national priorities will save lives around the world while reducing our own polluting habits. Expanding clean energy access creates jobs -- making this a win-win-win solution for all.
In partnership for the planet,


Peter Meisen
President
p.s. The Energy & Water Sustainability collaborative completed last month, and you can view the initial blog & visual work that we captured at http://www.wrsc.org/example_images
p.p.s. You can send your green gift to GENI right now to enable this important work on two fronts.

Email this page to a friend
Updated: 2010/01/08
If you speak another language fluently and you liked this page, make a contribution by translating it! For additional translations check out FreeTranslation.com (Voor vertaling van Engels tot Nederlands) (For oversettelse fra Engelsk til Norsk)
(Для дополнительных переводов проверяют FreeTranslation.com )