| | | |
| --- | --- | --- |
| | | |
| | D e c e m b e r 2 0 1 0 — Volume 18, Issue 12 | |
| | The GENI-us Letter | |
100% Renewables In 10 Years — Getting To Critical Mass
Dear GENI Friend,


When an idea reaches critical mass it becomes an unstoppable force. When enough people in business, government, academia and the general public believe in and commit to something, the momentum carries it to the rest of society. For 20 years GENI has been pushing the solution to "link renewable energy resources around the world," and we have finally reached critical mass in a few places.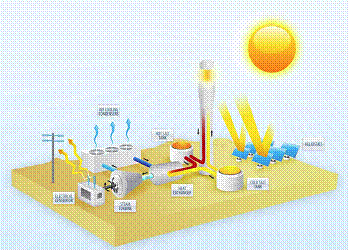 We offer two examples that illustrate this growing commitment. The Australian National University and the Univ. of Melbourne Energy Institute recently released their plan to transition the economy to 100% renewable energy in ten years. By building large solar and wind farms and high-voltage interconnections, the researchers make a compelling case for reliable, cost-competitive power for the continent in a decade. One technology that can be utilized in any desert is the solar thermal tower (using molten salt), which can provide clean energy 24 hours a day.
Source: www.beyondzeroemissions.org
In California, there's a Renewable Portfolio Standard requirement of 20% by 2010 and 33% by 2020. The Public Utilities Commission has been reviewing numerous project proposals, and recently approved a dozen utility-scale solar projects in the Southern California desert. Several solar technologies will be developed and connected into the transmission grid. The untapped potential of the world's deserts is virtually unlimited – and could supply all the planet's electrical energy needs.
We are encouraged by these commitments. What's needed now is for every national university in every nation to conduct is similar study – to access the renewable energy potential of their region and a plan for the transition. Our request: share this report with the top engineering departments in your state and nation, and ask them for a similar assessment and 10 year plan.
In partnership for the planet,


Peter Meisen
President
p.s. We invite and need your continued financial support of our work. It's easy via our secured website: http://www.geni.org/globalenergy/donors/enroll/pledge.shtml

You can send your green gift to GENI right now to enable this important work.

Email this page to a friend
Updated: 2010/01/08
If you speak another language fluently and you liked this page, make a contribution by translating it! For additional translations check out FreeTranslation.com (Voor vertaling van Engels tot Nederlands) (For oversettelse fra Engelsk til Norsk)
(Для дополнительных переводов проверяют FreeTranslation.com )