| | | |
| --- | --- | --- |
| | | |
| | M a r c h 2 0 1 1 — Volume 19, Issue 3 | |
| | The GENI-us Letter | |
Green Economy Will Cost $1 – 2.6 Trillion Per Year: United Nations
Dear GENI Friend,


The "Green Economy" has many facets: green energy, clean water, sustainable agriculture, forestry and fisheries; efficient buildings and industry, transport; and waste stream reduction. The opportunities for savings through increased efficiencies and new technologies to reduce our ecological footprint are tremendous.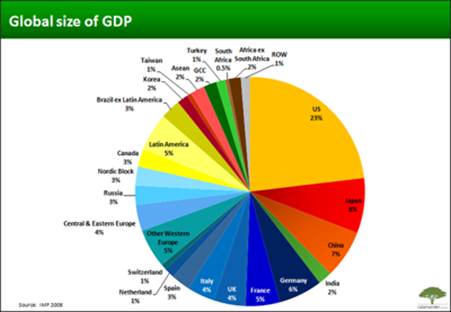 Chart Represents $74 Trillion In Global Domestic Product, 2010
To make the world "environmentally sustainable" the UN recently projected that investing $1 – 2.6 trillion every year will be required to make this transition. That sounds like a lot until we look at comparative numbers:
Global GDP: $74 trillion

U.S. GDP: $15 trillion

Spain GDP: $1.5 trillion
Every year, the U.S. spends approximately $1.1 trillion on all defense related costs.
It's not a lack of money – it is the will and commitment that we have lacked.
We will be investing in all these industries. We can clear-cut a forest, or harvest and replant. We can fishnet the ocean or manage the fishery. We can build coal-fired power plants or wind and solar farms. One method extracts the resources more quickly and cheaply, the other manages the resource for use today and future generations.
We have to prioritize our investments to build a greener and cleaner world. The top 11 nations produce 2/3rds of global commerce. What if we get them to lead this transition? . . . the rest of the world will follow. If you live in the U.S., Japan, China, India, Germany, France, UK, Italy, Spain, Russia or Canada – this is your task! This is a golden leadership opportunity. Will you challenge our business leaders and policy-makers to invest for this greener, cleaner future?


Peter Meisen
President
p.s. Share this with your utility, business & community leaders and policy-makers.  Challenge them to act now!
Review each of our projects, and Register your interest and ideas:
p.s. We invite your support of our work. It's easy with our secure Support page.
---

Email this page to a friend
Updated: 2011/03/16
If you speak another language fluently and you liked this page, make a contribution by translating it! For additional translations check out FreeTranslation.com (Voor vertaling van Engels tot Nederlands) (For oversettelse fra Engelsk til Norsk)
(Для дополнительных переводов проверяют FreeTranslation.com )