| | | |
| --- | --- | --- |
| | | |
| | D e c e m b e r 2 0 1 4 — Volume 22, Issue 12 | |
| | The GENI-us Letter | |
GENI-us Letter 2014-12
A Vision Of An Interconnected Energy Grid
– An Idea Whose Time Has Come –
Dear GENI Friend,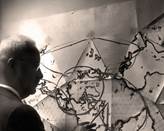 Bucky at 1969 World GameTM
"All the forces in the world are not so powerful as an idea whose time has come."
— French author Victor Hugo 1852
"The integrated world energy grid is the World Game's highest priority objective."
— Buckminster Fuller, Critical Path 1983
"This is not a time for tinkering; it is a time for transformation – a radical shift to greener economies."
— UN Sec. General Ban Ki-moon at the 2014 climate talks in Lima, Peru
The picture above from 45 years ago shows Buckminster Fuller with a freehand sketch of the interconnected energy grid. Great ideas can take time – and the time is now.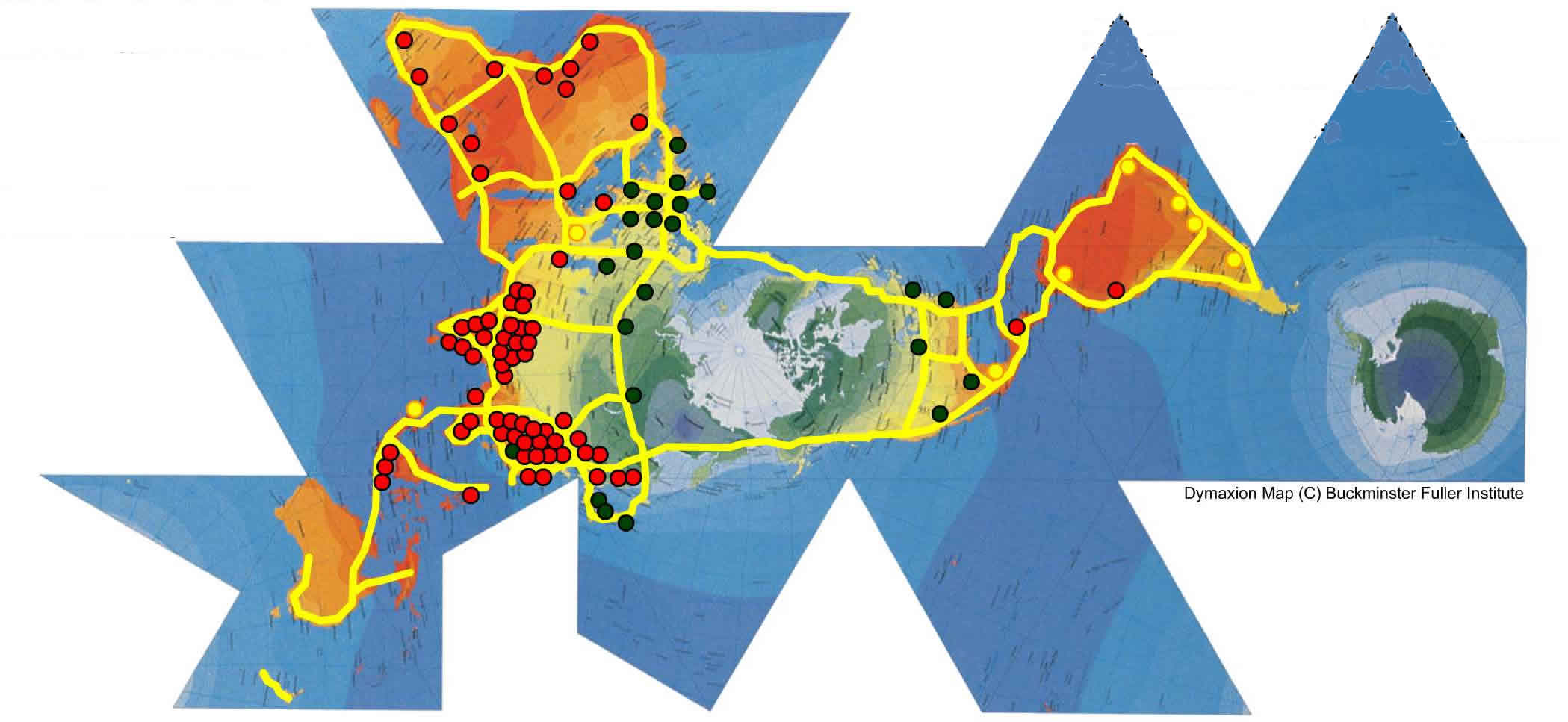 (Each dot = 1% of humanity) Dymaxion™ Map
©Buckminster Fuller Institute
In their 2014 report, Maria van der Hoeven, Executive Director of the International Energy Agency calls for more investment in renewable energy and electrical interconnections to get that power to markets. This is required to meet CO2 reduction goals.
Pacific Gas and Electric Company (PG&E) President Chris Johns leads one of the largest utilities in the world. He sees the Grid of Things™ which will link all technologies, from health care to homes to energy.  "These energy technologies are tremendously more powerful and valuable if they're wired together through the grid."
You have seen the development and acceptance of the GENI initiative over 25 years. We now see global leaders calling for a rapid uptake of renewable energy into an interconnected energy grid. It's an idea whose time has come, and there's no time to waste. It's needed in every nation, on every continent ...now. 
In Partnership for the Planet,
P.S. Please consider a year-end pledge to help drive the GENI Initiative.  We invite you to Give BIG, to match your vision for the world:  www.geni.org/globalenergy/donors/enroll/pledge.shtml
P.P.S. Review each of our projects, and Register your interest and ideas:
We invite your support of our work. It's easy with our secure Support page.
---

Email this page to a friend
Updated: 2014/03/22
If you speak another language fluently and you liked this page, make a contribution by translating it! For additional translations check out FreeTranslation.com (Voor vertaling van Engels tot Nederlands) (For oversettelse fra Engelsk til Norsk)
(Для дополнительных переводов проверяют FreeTranslation.com )