N o v e m b e r 2 0 1 8 — Volume 26, Issue 11

GENI-us Letter 2018-11
Solar And Wind Are Now
Cheapest Source Of Power
Dear GENI Friend,

The future of cleaner, cheaper electric power has arrived. The 2018 Bloomberg New Energy Finance report states that falling technology costs now favor utility-scale solar and wind. Buckminster Fuller calls this "emphemeralization," doing more with less — a generalized principle of science and business. Renewable energy will accelerate around the world as solar and wind are cheaper than their fossil fuel alternatives. These renewables provide the same reliability and security that utilities require.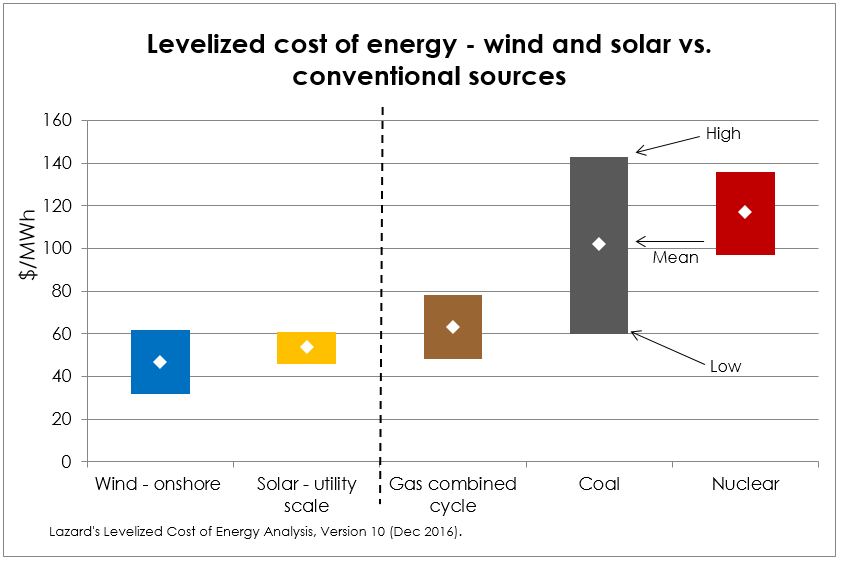 Some detractors will claim this to be inadequate since wind and solar are both intermittent resources, available only when the wind blows and sun shines. Technology solves this issue too.
The interconnected electric grid and batteries are the answer. The electric grid enables electricity to be instantly shunted from regions of high production to cities and industry. Utility scale batteries can now store excess solar and wind production for later use as needed.
The challenge ahead: increase the global renewable energy share from 25% to 80% by 2050. This is the goal of the UN IPCC in order to maintain a sustainable climate for human civilization. It's a significant change from our fossil fuel past and requires every nation, utility, financier and consumer to literally buy in.
We all want to save money and now the cleaner path is cheaper. Will you pledge your support and help us again this year? Do this for humanity — and your grandkids.
Happy Holidays,
P.S. Help us promote this shift in our world:
http://www.geni.org/globalenergy/donors/enroll/pledge.shtml
---