TECHNOLOGY: A tour of America's fanciest microgrid
Mar 13, 2014 - David Ferris - eenews.net
Correction appended.
Second of two stories. Read the first story here.
SAN DIEGO -- It is a Friday, and Byron Washom is obliged to give yet another tour of the microgrid at the University of California, San Diego. Last week it was utility executives, and next week it would be a honcho from the Navy. The requests keep coming in. "It's just nonstop," he said.
Washom, the university's director of strategic energy initiatives, unplugged his white Nissan Leaf (parked at one of the university's 56 electric car plug points) and settled in for a three-hour tour. The campus is a big place, 1,200 acres on the cliffs overlooking the Pacific Ocean, and the nation's most ambitious microgrid is distributed all over the place.
In just the last year or so, microgrids have bubbled into the public consciousness after existing for years as the hope of hobbyists and geeky environmentalists. They are electrical networks that let a campus or other locality create and store some of its own power, preferably from renewable sources, and occasionally "island" away from the power grid, if need be.
The San Diego region is becoming known as a laboratory for microgrids, and UC San Diego is the flagship. Two giant natural-gas cogenerators, in tandem with rooftop solar and a gallery of experimental projects, produce 92 percent of campus power over the course of the year. They also save the school as much as $850,000 a month in utility bills.
It is unknown whether others will be able to mimic the university's success in creating something so complex and expensive. This microgrid came about through a fortuitous combination of history, talent, persistence and luck, attaining a first-mover status that has made it a magnet for new technology.
The university's proprietary grid also has a long way to go toward being clean. Its main fuel source is, as one commentator put it, "old-school natural gas." And the time it took to recover from a 2011 blackout has one analyst wondering whether it is even a microgrid at all.
At the first stop of the tour, it became apparent that, whatever its flaws, this microgrid makes and stores power with some of the very newest and most cutting-edge machines.
At the East Campus Utility Plant, Washom proudly showed off a pair of 1.4-megawatt, 40-ton molten-carbonate fuel cells, some of the first commercial versions ever made. The giant steel blocks filled the air with an electrical hum. Their feedstock is gas emitted from a wastewater treatment plant a few miles south.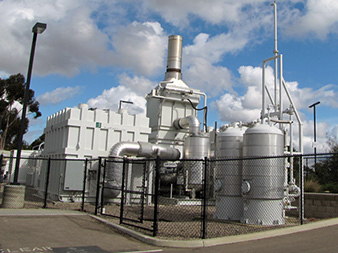 A pair of 1.4-megawatt, 40-ton molten-carbonate fuel cells serve "about 8 percent of campus load, but it fits in the footprint of a tennis court," said Byron Washom, the University of California, San Diego's director of strategic energy initiatives. "If a community has space for a tennis court, they have room for a 2.8 MW fuel cell. Cool, huh?" Photo courtesy of Rhett Miller at UC San Diego.
"This is the sound bite on this guy," said Washom, a bespectacled man with a soft voice and an easy smile. "It serves about 8 percent of campus load, but it fits in the footprint of a tennis court. If a community has space for a tennis court, they have room for a 2.8 MW fuel cell. Cool, huh?"
With similar enthusiasm, he walked over to two large, curiously thick solar panels mounted on pylons. Their faces are densely packed with lenses that focus light on the solar cells behind them -- a concentrated-solar technique that was experimental when installed in 2009. They were made by solar manufacturer Soitec, which now has a plant in San Diego and is seeking approval to build 168 MW of these panels in the eastern reaches of the county.
"We covet low serial numbers," Washom said. "Utilities, being conservative and risk averse, they covet the high serial numbers. We like to fill that gap between the early adopter and them."
Next, Washom pointed at the future site of a 108-kilowatt flow battery ("We want to be the Motel 6 of energy storage") and then at a patch of brambles nearby. "Over here is the designated site for a 2.5 MW, 5-megawatt-hour energy storage facility," he said. "It will be the largest energy storage facility at any university in the world."
Sunny circumstances
Other universities have sizable microgrids, including the University of Texas, Austin, and the Illinois Institute of Technology, but neither has the diversity of energy sources found at UC San Diego. And few campuses anywhere have such a combination of factors in their favor.
Interest in climate change dates way back. The university was, literally, the first to learn of man's hand in global warming, in the person of Dr. Charles Keeling, the oceanographer who in the 1950s made the first measurements of carbon dioxide in the atmosphere. Keeling's atmospheric sampling forms the basis of today's debates over global warming and fossil fuels.
But even more important than history, UC San Diego has money.
A decadelong, $4 billion building boom has added 3 million square feet of real estate to a campus that is still full of construction zones. Atop that, Washom and researchers have raised $9 million in clean-tech funding, mostly from the California Energy Commission and the California Public Utility Commission.
"My favorite verb is cobbling, and we've had to cobble together the funding and the teams and the co-sponsors and the industry partners. There's not an incentive out there that exists that we haven't utilized. We know how to shake the money tree," Washom said.
The university is the size of a small city but is served by only one power line to the utility, San Diego Gas & Electric. This makes it easier for the microgrid to disconnect and to operate independently. And because the energy is used locally, projects needn't meet the onerous requirements of energy regulators. Or any regulator, for that matter. Washom describes his playground as having "12 million square feet of space but not a single building permit."
"It's almost like a sovereign state," said Peter Asmus, an analyst who studies microgrids for Navigant Research. "They own the streets, they own everything."
Fourth, the university has a deep bench of engineers doing groundbreaking work on solar power, batteries and buildings. In one experiment, every device and plug in the computer science building is monitored in order to save energy. Two other researchers are tracking the unpredictable movement of clouds and using the data to predict the output of solar farms.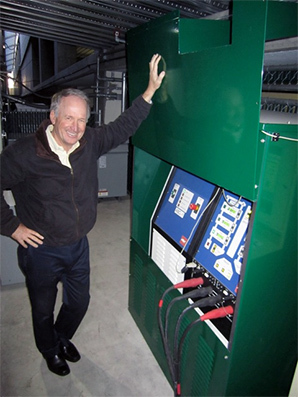 Byron Washom stands next to a control panel for an experiment in which UCSD is testing used EV batteries to see how they would perform as backup energy storage for the grid. Photo by David Ferris.
Finally, it has Byron Washom.
When Washom came to campus six years ago, "his eyes lit up, and he said, 'This is the perfect place to do a microgrid,'" said David Weil, a former sustainability director at the university. "He was the springboard that made it all happen."
Washom, 64, is a serial solar and clean-tech entrepreneur who came out of semi-retirement to work at UC San Diego when his son was an undergraduate. He is the microgrid's chief organizer, fundraiser, motivator and connector. In his office, he keeps a poster-sized rollout sheet of the university's 112 or so sustainable energy projects, with the funded ones in green and the unfunded ones in purple. They fall into columns including distributed energy, energy storage, decarbonized transportation and big data.
Recently, Washom has scaled back his commitment to San Diego to make time for an intriguing new client: Larry Ellison, the multibillion-dollar founder of Oracle, who hired Washom to consult on the eco-paradise Ellison is building on the Hawaiian island of Lanai. Ellison bought 98 percent of the island in 2012.
Lanai was the one clean-tech topic Washom wouldn't discuss, citing his client's desire for privacy. But Washom was eager to demonstrate the next stop on the tour.
Solar power in a Beemer battery
Washom piloted his Leaf past the experimental algae-fuel ponds and to the Hopkins parking garage, whose roof is shaded by a third of a megawatt of solar panels. The campus has a whopping 3 MW of rooftop solar power. Solar panels, Washom claimed, are installed on every roof that can support the weight and is exposed to the sun.
But the most interesting part of the parking garage is below ground. In a storage cubicle, three old electric-car batteries are being charged and drained, again and again. Most EV batteries retain 80 percent of their charge when they are retired. This project is testing batteries from companies like A123 and Enerdel to see how they would perform as backup energy storage for the grid -- a role that would greatly expand a battery's useful life and the market for low-cost energy storage. "We run them until rigor mortis sets in and they fail," Washom said.
Soon, old car batteries and solar power will start to work in tandem. A shipping container outside the garage will be filled with castoff batteries from six electric Mini Coopers that will store energy generated by the solar panels on the roof, according to BMW. The German carmaker is Mini's corporate parent and is collaborating with the university on the project.
The final stop on the tour is the central utility plant, where the microgrid master control room crunches 132,000 data streams a second. It was the centerpiece of the microgrid's biggest test, during the Great Blackout of 2011.
How the microgrid performs
That power outage, the largest in California history, started because of a tripped power line in Arizona. On the afternoon of Sept. 8, 7 million people across Southern California, Arizona and northern Mexico lost power, including everybody in San Diego.

The university's two 13.5 MW Trident turbines were running full-bore when power from the utility abruptly went dead. With no time to shed their load, the turbines also shut down, and the campus lost electricity. Campus energy managers initiated what is called a "black start" -- firing up local power with no assist from the grid.

Power returned first to buildings served by the campus' 62 backup diesel generators. Afterward, the main turbines began spinning again. Restoring power to the entire campus took five hours, while Greater San Diego took 13 hours.

This performance has opened UC San Diego to some criticism.

"UCSD should have been the island of light in this dark spot, but they weren't able to," said Dean Frankel, an analyst at Lux Research. The microgrid should have been available almost instantly to substitute for the traditional grid and keep the most important campus services running, he said, but instead it took hours. "If you're not supporting critical power sources 100 percent of the time, you're not really a microgrid."

In response, Washom pointed to a recent report from Sandia National Laboratories that described microgrids primarily as means to complement power from the grid, not replace it in an outage.

Whatever its performance in a blackout, there is no question that the microgrid has made the campus more self-reliant. Before the gas turbines came online, UC San Diego was SDG&E's third most power-hungry customer, according to Weil. Now the school produces 92 percent of its own power.

It also can help the larger grid out in a pinch, such as during wildfires in 2007, when at the request of SDG&E, Washom said, the campus fired up its generators and went from being a 4 MW importer to a 3 MW exporter within half an hour, possibly rescuing San Diego from a blackout.

But that independence is still at the mercy of larger forces. On the day of this visit, a reporter couldn't visit the central utility plant because the university (and all large utility customers in San Diego) was under orders to prepare for a cutoff of natural gas, the campus's main fuel source. A cold snap in the gas fields of Texas and the Rocky Mountains had pinched supply.

Washom, as the university's resident visionary, is more focused on the new, lower-carbon energy sources that might one day wean the campus off fossil fuels. He is confident that the campus will maintain its leadership position in creating the microgrids of tomorrow.

What do others have to learn from the UC San Diego microgrid? Washom grinned with a twinkle in his eye. "Everything we've seen today is completely replicable to someplace else," he said. "We're showing the art of the possible."

Correction: UC San Diego has added 3 million square feet of real estate to its campus in the past decade. Because of incorrect information provided to EnergyWire, an earlier version of this story contained an error.

Twitter: @DavidFerris | Email: dferris@eenews.net



---