People of 2008 Finalist: José María Prazeres Pós-de-Mina
* This story profiles one of ten finalists for OneWorld.net's People of 2008 award.
Nominated by: OneWorld.net editors
WASHINGTON, Nov 24 (OneWorld) - The mayor of one of Portugal's smallest and poorest municipalities has launched one of the largest green business initiatives in the world, and now he's spearheading an eight-country project to create communities run entirely on renewable energy.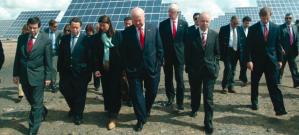 José María Prazeres Pós-de-Mina (with mustache) escorts U.S. Energy Secretary Samuel Bodman on a tour of the Amareleja solar power plant in May. ©

Camara Municipal de Moura José María Prazeres Pós-de-Mina started with his own municipality of Moura, which is one of the sunnier spots in the sunniest country in Europe. Noting that his region has "sunshine to spare -- and even to sell," Pós-de-Mina built what was until earlier this year the world's largest solar electricity generating plant, which will produce enough energy to power 30,000 homes when it reaches full capacity in 2010. Moura is home to just 16,500 people.

Pós-de-Mina calls the solar plant "a very important project that will put Moura in a leading position at the global level in the renewable energy sector, which could attract other related investments.

"Besides the solar plant and what it means in terms of respect for the environment, the idea is to give shape to a much more vast initiative, with technological products and initiatives in the area of research. We will also build a neighborhood that will take into account worries about sustainability, introducing renewable energy in the buildings while paying attention to energy efficiency."

For his bold initiatives, Pós-de-Mina has been dubbed "the mayor of the future."

His latest project links eight municipalities in eight European countries in an effort to create "zero-carbon communities" run entirely on renewable energy. The "Sunflower Project" was launched in Moura in October, with mayors from Bulgaria, the Czech Republic, France, Greece, Italy, Portugal, Spain, and the United Kingdom beginning to set out their plans.

In a recent interview with Inter Press Service (IPS), Pós-de-Mina said the project is being implemented "in localities that are socially disadvantaged and impoverished, where local communities have limited access to information, and economic activity alone is insufficient to drive technological and scientific investment."

Helder Guía, the initiative's environmental engineer, told IPS that the Sunflower Project is intended to help spread eco-business ideas across Europe, "breeding new plants that will generate any form of renewable energy, either photovoltaic, wind, wave, or any other alternative power source that is locally feasible, depending on the location and the specific conditions."

"Power plant construction projects are also meant to serve as a springboard for sustainable development by creating employment, jobs that globalization cannot easily relocate to other regions, as they will be dependent on that specific location," Guía added.

Many ecologically and economically minded thinkers have suggested that the creation of "green jobs" can help reverse the financial malaise setting in across the planet.

Earlier this month, the Worldwatch Institute urged leaders of the world's 20 largest economies -- the so-called G-20 -- to launch a "Global Green Deal" that would focus on renewable energy, energy efficiency, "green" infrastructure, durable and recyclable materials, and a fairer distribution of wealth within and across borders.

Lester Brown of the Earth Policy Institute sees a new energy economy already emerging in the United States, and has encouraged federal government policies to construct a strong national electricity grid -- "the electrical equivalent of President Eisenhower's interstate highway system, in order to unleash the full potential of renewable energy wealth."

And renewable energy offers particular promise as a "leapfrog" technology for developing countries. Ten of the top 15 countries producing geothermal electricity -- by tapping into the energy produced far below the earth's surface -- are in the developing world, the Earth Policy Institute notes.

As for Pós-de-Mina, he was invited to speak about Europe's Sunflower Project this month in Brazil, at a Latin American conference on renewable energy.

The age of renewable energy seems to have arrived, thanks in no small part to the visionary leadership of Portugal's "mayor of the future."
---

Email this page to a friend


Updated: 2016/06/30
If you speak another language fluently and you liked this page, make a contribution by translating it! For additional translations check out FreeTranslation.com (Voor vertaling van Engels tot Nederlands) (For oversettelse fra Engelsk til Norsk)
(Для дополнительных переводов проверяют FreeTranslation.com )