Solaria to develop 50MW of PV projects throughout Argentina
Jul 4, 2012 - Anne Zimmermann- pv-tech.org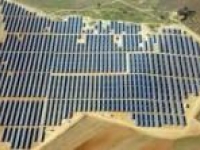 Solaria and ENRASA have entered an agreement about the development of PV projects in Argentina. Image: Solaria


Solaria Energía y Medio Ambiente is planning to develop upto 50MW of PV projects in Argentina, the company has announced. Under an agreement signed by Solaria and Argentinian energy company Energía Argentina SA (ENARSA), Solaria will develop the projects throughout Argentina. No further details were disclosed.

So far, Argentina only has two large-scale PV projects that have been completed: the 5MW Canãda Honda PV park and a 1.2MW PV plant in San Juan.












---

Email this page to a friend


Updated: 2016/06/30
If you speak another language fluently and you liked this page, make a contribution by translating it! For additional translations check out FreeTranslation.com (Voor vertaling van Engels tot Nederlands) (For oversettelse fra Engelsk til Norsk)
(Для дополнительных переводов проверяют FreeTranslation.com )