Africa's largest PV project set for construction in early 2014
Sep 18, 2013 - Lucy Woods - pv-tech.org
"Construction is due to start in the first quarter of 2014 on a 155MW PV project in Ghana, said to be Africa's largest PV power plant to date.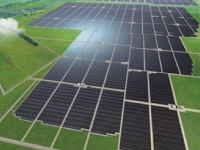 Ghana's largest PV project will create 500 domestic construction jobs. Picture: Blue Energy
Nzema, in Ghana's Western Region, will also be the country's first grid-connected solar farm.
Talking to PV Tech, Douglas Coleman, special projects director for Nzema's developer, Blue Energy, said 500 local construction staff would be employed to start work on the 155MW project early next year..."
Read the whole article at PV Tech: http://www.pv-tech.org/news/ghanas_largest_solar_project_to_begin_construction
---

Email this page to a friend


Updated: 2003/07/28