Apple's Campus 2 'Mother Ship' to Run on 100% Renewables
Apr 22, 2014 - Aarthi Rayapura - sustainablebrands.com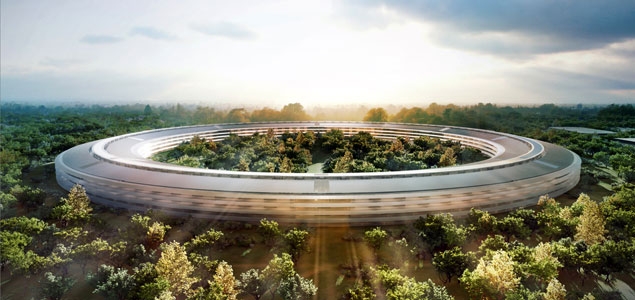 An artist's rendering of the "mother ship" | Image credit: Apple
Apple's Campus 2 in Cupertino is on its way to redefining sustainable office spaces. In a recently released video detailing the sustainability aspects of the building, the company says that the idea is to "bring California back to Cupertino," and it believes it has a shot at building the "best office building in the world."
Watch the Apple Campus 2 official video: http://youtu.be/gxiBUeEsmH4
"Our goal is to build a campus that has no net increase in greenhouse gas emissions," says Lisa Jackson, VP of Environmental Initiatives at Apple. The building, expected to be roughly 2.8 million square feet, will house more than 14,000 employees and is set to be completed by 2016.
Often dubbed the 'mother ship' due to its unique, circular design, the salient features of Apple Campus 2 include:
80 percent of the site will be green space
75 percent of the year, the building will not use air-conditioning/heating and rely only on natural ventilation
The facility will run on 100 percent renewable energy
The building will feature one of the largest solar arrays in the world for a corporate campus
Strong trees on the site will be transplanted and augmented with more resilient species that are adaptable to dry climates.
"This project is pushing the boundaries of technology in almost every aspect. The facade will be new, the glazing is a completely new system — never been done before. The concrete structure is unique. Everything is handcrafted for this project," says Stefan Behling, architect at Foster + Partners.
In the video, Foster + Partners' Norman Foster recalls his collaboration with Steve Jobs on the project: "The first point of reference, I think, for Steve was the campus at Stanford — his home territory. And also the landscape that he grew up with — he still remembered it as the fruit bowl of America."
Not to be outdone, Facebook is hard at work on its second campus in Menlo Park, Calif. Dubbed the "Hobbit Hole," the company says the 433,555-square-foot structure will cover 22 acres, feature a tree-covered rooftop garden, blend in with the hillside and connect to the existing campus via an underground tunnel.
---

Email this page to a friend


Updated: 2016/06/30
If you speak another language fluently and you liked this page, make a contribution by translating it! For additional translations check out FreeTranslation.com (Voor vertaling van Engels tot Nederlands) (For oversettelse fra Engelsk til Norsk)
(Для дополнительных переводов проверяют FreeTranslation.com )